IMF team updates President Michel on reform progress
18-October-2011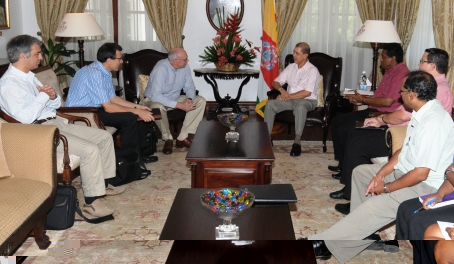 "We told him the programme's performance is good and the country has met all the quantitative criteria as at the end of June 2011," Mr Le Dem said in an interview.
He said the IMF will next review the structural reform programme and see where it is necessary to accelerate the programme and discuss Seychelles Budget 2012 whose biggest challenge will be "the situation with Air Seychelles, which we also discussed".
Mr Le Dem said measures have already been taken with a view to seeing how "the airline can get out of the red and therefore limit the need for budget support".
"We also discussed the inflation issue which has risen a little to 3.3% in September and the chances for price increases but also how this can be mitigated through the social welfare agency," he said.
He said the reforms have stabilised the economy and should continue leading to a sustainable path.
He stressed the need to ensure the private sector continues to grow so as to support the economy.
Also present during the meeting were Vice-President Danny Faure, who is also the Minister for Finance, Central Bank Governor Pierre Laporte and principal secretary for Finance and Trade Ahmed Afif.