Key tourism partners discuss ways to woo more S. African visitors
19-October-2011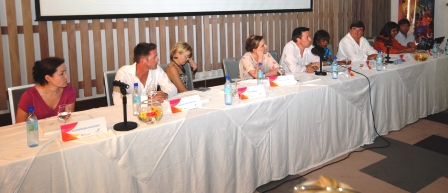 Monday's workshop in progress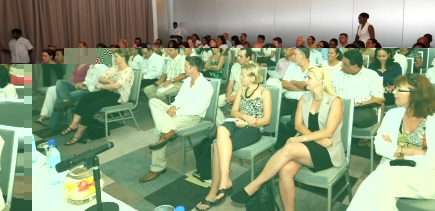 The meeting was conducted by the general sales agent (GSA) of Air Seychelles in South Africa, Deon Fremantle, who was accompanied by some top tour operators selling Seychelles as a tourism destination.
The meeting was also attended by the chairman of the Seychelles Hospitality and Tourism Association (SHTA), Louis d'Offay, but unfortunately not many hoteliers turned up.
The participants heard that while an average 7,000 South African visitors had come to Seychelles in 2010, our main competitor, Mauritius, had received over 81,000. While the 2011 arrival figures to date compared to last year reflect a stagnation, in Mauritius this was already up by 10%.
There are 14 weekly flights between South Africa and Mauritius by several airlines. There are just two Air Seychelles flights linking Mahe to Johannesburg.
And Mauritius is by no means our only competitor, Mr Freemantle pointed out. There is neighbouring Mozambique, Zanzibar, the Maldives and Thailand, which are offering similar products at prices significantly lower than in Seychelles.
There are some 100,000 South Africans travelling to Thailand annually. Visitor numbers to Maldives, though still only a few thousand, is growing by 35% since last year.
Mr D'Offay said it was an opportunity to clarify certain issues and learn more about the specificities of the South African market.
He noted there is a perception that Seychelles is out of reach of the majority of South African vacationers.
The South African tour operators present argued that though Seychelles is clearly more attractive than competing resorts, in more ways than one, it is far easier to sell others, especially Mauritius and the Maldives.
They said that not only are hotels more expensive in Seychelles, but even rates of Air Seychelles are prohibitive. It was noted that it is costing more to fly from Johannesburg to Seychelles, than to the Maldives, much further away.
"And in the Maldives, service delivery is impeccable," said one South African tour operator.
Mr D'Offay said hotel operational costs are very high in Seychelles, compared to other vacation spots. He cited water, electricity and labour costs.
Mr D'Offay also mentioned the fact that the Goods and Services Tax (GST) is going up from 12% to 15% next month. He deplored the absence of any official from the Finance Ministry at the tourism meeting.
"Though our hotel rates are said to be high, we have been discounting since some time and now we shall have to absorb the tax increases," he said.
The tour operators noted that the best times to tap the South African market were April, July to September and December.
It was also noted that South Africans have rather short vacations, hence the need for a third weekly flight, to render the vacations more flexible.
Local operators said they are unaware of any promotions by Air Seychelles.
Mr Freemantle said there is a need for more sales visits by Seychellois hoteliers in the South African market. He said that just now, it is not feasible to extend the Air Seychelles flights to Cape Town or Durban.
He said that when tourism numbers grow, a third flight will then become a reality, allowing more flexibility to South African vacationers for shorter or longer stays in Seychelles.