Visa to US might become easier to get
20-October-2011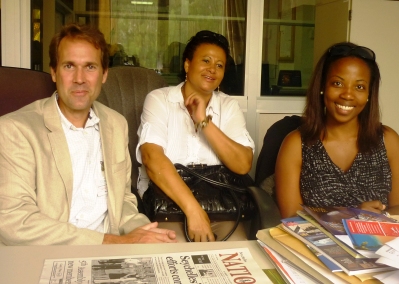 They can process their visas in just one day for example at a US embassy in Nairobi or London if they are passing through there, he told Nation.
Asked about the risk of doing part of the journey then failing to get the visa, Mr Fitrell said Seychellois are very rarely denied visas so the risk is very small, bringing in the question of why Seychellois cannot enter the US more freely.
"You are not required to fly to Mauritius. Anybody can apply for a visa in a US embassy anywhere and some people have in the past chosen to do so en route depending on how they choose to go out of Seychelles. If you choose to go via Nairobi or Milan or London you can do it there during a day's stopover. Those applicants who have done so have found it to be more convenient," he said.
He said the refusal rate for visas applied for by Seychellois is very low, "one of the lowest in the world". "This is one of those factors where the possibility of joining the visa waiver programme exists," he said.
Mr Fitrell said Seychelles is not ruled out as a country whose citizens cannot qualify for a visa waiver on the grounds of too many Seychellois going to the US and not coming back home, because that is not the situation with Seychellois.
"It is a possibility that your government can explore but has not yet asked us to look into," he said.

Nation contacted Foreign Affairs Minister Jean-Paul Adam and when the minister met Mr Fitrell the following day the issue came up.
Minister Adam has confirmed to Nation that the process to consider a visa waiver for Seychellois travelling to the US has started.
He noted that for business visas a Seychellois can just apply by mail and does not need to travel to a US embassy.
Mr Fitrell said budget constraints are the only reason there is no resident US ambassador here, but noted officials from the Mauritius-based embassy – which takes care of Seychelles – often come to attend to relevant issues here.
"We are calling this a 'US Embassy in Seychelles week' for example, because there are 10 of us here," he said last week, introducing political analyst Marie-Annette Ernesta, who took up the newly created post recently.
"Mrs Ernesta is our political and economic specialist for Seychelles. She is our point of contact on everything that happens in the political and economic realms," said Mr Fitrell.
He said her work is much more than that of a consular agent and her presence will help clarify issues that are difficult to clarify through email, and "she can give the embassy historical background of important matters".