Football: Barclays league division one-La Passe keep St Michel waiting
20-October-2011
St Francis deployed a very defensive approach in the first half as they packed their defence in an attempt to keep La Passe at bay.
La Passe could only conjure a decent chance in the 15th minute when Roderick Rose played a long ball to Yelvanny Rose who headed wide.
Three minutes later, La Passe's captain Geal Jessinghaus hustled well to set up Yelvanny Rose whose half-volley was tipped over by goalkeeper Andrea Libanotis.
St Francis were gifted a gilt-edge opportunity midway in this half as La Passe's Fanchette headed weakly Stephane Barallon's deep free-kick. The ball fell to Alpha Baldé who volleyed over the crossbar.
La Passe should have opened the scoring in the 43rd minute as Malagasy Valerie chased a long ball to centre to Yelvanny Rose who failed to hit the target.
St Francis strangely opened up in the second period as they began to push more men in attack and in the 59th minute, substitute Radley Monthy and Baldé played a one-two but the former's shot sailed wide.
La Passe therefore exploited the extra space in the St Francis defence and went ahead in the 63rd minute as their impressive captain Jessinghaus released Garry Radegonde whose superb cross was missed by Libanotis and Yelvanny Rose but Achille Henriette, who had had a quiet first half, pounced on the loose ball to bury it in the net for a 1-0 lead.
In the 67th minute, La Passe should have extended their advantage as Valerie latched onto a through-ball to beat the outrushing Libanotis but his shot rolled agonisingly wide as his teammates remonstrated him because he could have squared to an unmarked Henriette who was begging for the ball.
A minute later, St Francis' Fortunat Rasanaivarosoa gave the ball away to Henriette on the edge of the penalty area but the La Passe player's low shot was blocked by Libanotis' legs.
In the 75th minute, La Passe stretched their lead as Henriette and Jean-Paul Adela combined beautifully to send the former Falcons player galloping down the right. Adela kept his composure to cut the ball back to Roderick Rose whose fierce shot went off Libanotis' legs to make it 2-0.
St Francis though did not give in and in the 78th minute, Baldé fired a strong shot which was pushed over by goalkeeper Dave Mussard.
In the 87th minute, Baldé again tested Mussard with a curling free-kick which he tipped over the crossbar.
Two minutes later, Nicolas Atala had a better chance as Malagasy Fortunat centred to him but from two metres out, he lost his footing with the goal at his mercy, allowing La Passe to claim all three points to keep the pressure on St Michel who have a six-point lead with two games remaining. La Passe have three more matches to play.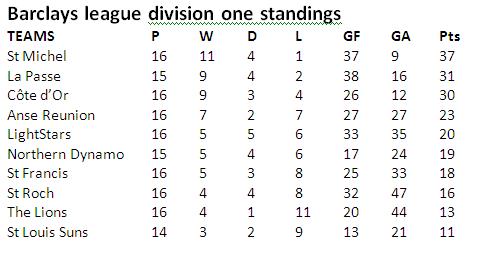 R. J-L.