15th Comesa Heads of State and Government Summit-VP Faure advances small islands' case
20-October-2011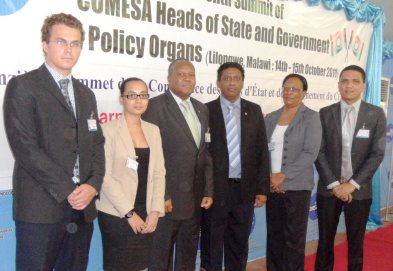 Addressing the 15th Comesa (Common Market for Eastern and Southern Africa) Heads of State and Government Summit last week, Mr Faure reiterated the importance of embracing infrastructural projects that benefit small islands member states.
He informed the summit that Seychelles, as the new chair of the Indian Ocean Commission, will be working closely with Comesa to ensure that both the specificities and vulnerabilities of small islands states are given due consideration.
Vice-President Faure was representing President James Michel at the October 14-15 summit held in Lilongwe, Malawi.
The theme chosen for the summit was "Harnessing Science and Technology for Development".
The President of Malawi, Ngwazi Professor Bingu Wa Mutharika, took over the chairmanship of the authority from outgoing chairman King Mswati III of the Kingdom of Swaziland.
The deliberations of the summit focused on the role of science and technology in infrastructural development as a tool to promote regional trade.
The meeting took note of the various strategies and initiatives to further regional integration and concluded that those would not materialise as long as conflicts in the region are not addressed.
It was within this context that Mr Faure expressed appreciation to Comesa for putting maritime piracy firmly on the agenda. He further commended member states for coming up with the Comesa Regional Strategy and Action Plan against Piracy.
The summit also reminded member states of the importance to show commitment to the roadmap for the Tripartite Free Trade Area negotiation among SADC (Southern African Development Community), Comesa and EAC (Eastern African Communities).
The tripartite initiatives are considered as the means to harmonise and rationalise the various initiatives under the three Regional Economic Communities into one larger trading zone. This will also be a way to address multiple memberships as is currently the case.

Vice-President Faure further expressed great satisfaction with work being done to develop the maritime corridors linking the Indian Ocean states to the mainland.
"The proposed Maritime Corridors Investment Conference to be held in 2012 is a positive move towards the integration process of our economies," Mr Faure said.
The summit also expressed the urgency for the Eastern and Southern African Region to come up with their position relating to the Economic Partnership Agreement following the recent development from the European Commission.
Vice-president Faure also held bilateral discussions with President Bingu Wa Mutharika of Malawi and Vice-president Stephen Kalonzo Musyoka of Kenya.
Mr Faure described the meeting as very cordial and one which will further the bilateral relations between Seychelles and Malawi.
Mr Faure was accompanied at the summit by Jeanne Simeon, principal secretary in the Vice- President's Office; Seychelles' resident high commissioner in South Africa, Joseph Nourrice; Kenneth Racombo and Nicholas D'Offay from the Ministry of Foreign Affairs and Cillia Mangroo from the Ministry of Finance and Trade.