Football: Barclays league divisions two and three-Leagues heat up as season nears end
22-October-2011
With 10 wins, three draws and two defeats after 15 matches, Quincy are occupying top spot on the division two league table. They are on 33 points after scoring 33 goals and conceding 15. With one match remaining, Quincy have only one point more than second-placed Cadets who have played 14 matches. Cadets are on 32 points after winning 10 matches, along with two draws and two defeats. They have scored 39 goals and conceded 17.
SMB, who have played 15 matches, are third on 30 points after collecting nine wins, three draws and three defeats.
If Cadets win their two remaining matches, they will overtake Quincy and win the title with a total of 38 points.
Quincy, on the other hand, can finish third if they lose their last match and third-placed SMB register a win.
Although they will both finish with 33 points, SMB will finish ahead of Quincy with a superior goal difference.
In the division three league, the top two teams – leaders Tigers and second-placed Au Cap – have almost equal chances of winning the title.
Anse Boileau-based Tigers have accumulated 30 points from nine wins and three draws after playing 12 matches. They have 40 goals for and 16 against.
Newcomers Au Cap are on 28 points with eight wins and four draws in 12 matches. They have scored 31 goals and conceded only five.
Both teams have two matches left. In case Au Cap suffer defeats in their two games, third-placed Beau Vallon will secure the runners-up spot provided they win their last league match. Beau Vallon are on 26 points after eight wins, two draws and three defeats in 13 matches.
So far, SMB have the most prolific attack in the second division with 52 goals, while Quincy have the best defence after leaking just 15 goals.
Third-placed Beau Vallon are the leaders in goal-scoring in the third division league with 48 goals , while Au Cap have conceded goals in single digit – 5 – in 12 games.
The two league leaders will win automatic promotion to the higher divisions – first and second – while the runners-up will meet the second-from-bottom teams of the higher leagues in play-off matches.
As for the Barclays league division two tailenders they will be automatically demoted to the third-tier league.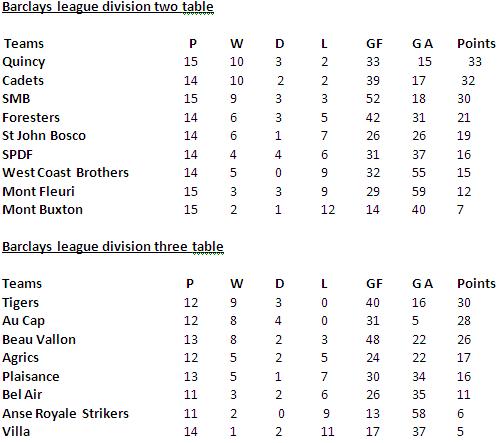 R. D.