Football: Barclays league division one-St Michel edge Côte d'Or, La Passe still in title hunt
24-October-2011
Also on Saturday at Stad Linite, LightStars travelled to Mahe to earn a 2-0 win over Northern Dynamo and on Friday, St Francis earned a controversial 2-1 victory against The Lions.
Côte d'Or v St Michel
This top-of-the-table clash at the Amitié Stadium was being viewed as a title-decider though Côte d'Or were out of the title race but merely measuring themselves after a superb season against the top teams locally.
There was much debate about the kick-off time of 4pm especially from the Mahe team but after much discussion with all parties concerned, the compromise time of kickoff was 3.45pm which would enable the travelling team and their supporters to catch the Cat Cocos ferry trip back home.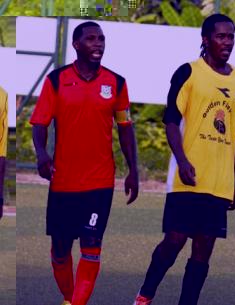 The stadium was packed with supporters and some had gathered around the fence to witness this top league encounter.
The match started in sombre mood though as St Michel paid tribute to midfielder Francis Nourrice who lost his mum in a brutal murder incident on Friday morning.
However, there was not much entertainment on the playing field as Côte d'Or played a rather cautious approach as they tried to limit St Michel's passing game.
St Michel were more eager to break the deadlock but they struggled to create any clear opportunities with a few half-chances which they could not convert.
Côte d'Or relied on set pieces to threaten St Michel and in the 41st minute, Collin Esther floated a corner to Hubert Ernesta but he could not direct his header to trouble goalkeeper Nelson Sopha.
Côte d'Or were more offensive in the second period and in the 54th minute Esther lofted a corner to Francis Louise at the near post but his header flew wide.
St Michel responded in the 57th minute as Don Anacoura rolled a free-kick to Carl Hall but he fired his shot just wide.
Côte d'Or brought on Malagasy striker Nicolas Simouri, their top scorer, on the hour mark to add more punch to their attack but it was St Michel who became more dangerous in attack.
In the 69th minute, Hall created space in controversial manner after referee Jean-Claude Labrosse had originally penalised St Michel's Anacoura for pushing Côte d'Or's Esther on the bye-line. Anacoura protested to the official who surprisingly changed his decision in favour of St Michel. The official's decision got the Côte d'Or bench up in arms but it was to no avail as Anacoura himself curled a free-kick in the penalty box and Brutus was on hand to head home for a 1-0 lead – a goal which really infuriated the Côte d'Or camp and their supporters.
Ironically Brutus was about to be substituted before he scored as Leeroy Corallie and Gervais Waye-Hive were warming up and about to come on, but the switch was cancelled as they persisted with the same team and in the 83rd minute, Brutus released Hall who shot straight at goalie Kitson Cécile.
Côte d'Or's best chance to at least gain a draw in this match fell to Malagasy Patrick Ramsamimanana who rifled a superb 85th minute free-kick from the edge of the penalty area, but Sopha was well positioned to ensure his team claim all three points.
St Michel now need only one point in their last match on Friday against Anse Reunion to retain the league crown.

La Passe v St Louis Suns
La Passe kept alive their slim hope of overhauling St Michel in the title race with a hard-fought 2-0 victory over a battling St Louis Suns on La Digue on Saturday.
St Louis Suns are desperate for points as they gave La Passe a good run for their money but were undone by poor finishing and also the l'Union pitch which is in a poor state and in urgent need of repair.
La Passe took the lead in the first half through Malagasy Valerie who rifled a strong shot past goalkeeper Joel Lesperance to make it 1-0.
Garry Radegonde ensured his team all three points with a brilliant header from Roderick Rose's cross in the second half for a final 2-0 score.
These two teams will meet again in the league match on Wednesday on Mahe in the return leg.
Northern Dynamo v LightStars
Also on Saturday at Stad Linite, LightStars returned to winning ways after a poor run of results which led to coach James Barra stepping down.
LightStars went ahead as Mario Ravo opened the scoring in the first half and Andrew Jean made it 2-0 in the second period to boost his team's morale ahead of their Land Marine Cup quarterfinal meeting with The Lions tomorrow.
The Lions v St Francis
On Friday at Stad Linite, 10-man St Francis added to The Lions' troubles with a controversial 2-1 victory.
The Lions were desperate for all the points to help them move off the foot of the table with only one more game remaining for them as they battle with St Louis Suns to earn the play-off spot.
The Lions though were more eager in attack and threatened in the 32nd minute as Dine Suzette saw his shot come off defender Yannick Manou and fell to Jones Joubert but he fired wide.
Five minutes later, St Francis opened the scoring in controversial circumstances as Alpha Baldé combined with Yves Zialor to release Stephan Esparon who was clearly offside but not signalled by assistant referee Walter Underwood allowing the midfielder to cut inside and shoot low past goalkeeper Jerome Dingwall for a 1-0 lead.
The Lions had to go on the offensive and in the 41st minute Joubert's deep cross forced goalkeeper Andrea Libanotis to tip over for a corner.
The Lions levelled matters with the resulting corner floated by Suzette and Leeroy Gomme headed past Libanotis in a crowded penalty area to make it 1-1 at half-time.
The Lions threatened to go ahead in the 47th minute as Gomme rifled at Libanotis, who parried the ball away.
Five minutes later, Gomme created a decent chance for Randolph Lablache as he laid the ball in his path but he shot over the cross-bar.
St Francis took the lead once again in the 53rd minute as Zialor hooked the ball over The Lions' defence after a mêlée in the penalty area and Trevor Vidot sneaked in to beat a hesitant Dingwall for a 2-1 scoreline.
The Lions still roared forward in search of an equaliser and in the 59th minute Carlos Mondon centred to Gomme who could not direct his header on target.
In the 66th minute, Baldé was awarded a free-kick on the edge of the penalty area and his curling shot was pushed out by Dingwall to launch a counter. Lablache raced past a couple of defenders to shoot at Libanotis who blocked his shot.
Sensing the match slipping away, The Lions deployed three at the back but almost conceded a third goal in controversial circumstances in the 83rd minute. Baldé was allowed to race clear when clearly offside which was not signalled by assistant referee Romario Lespoir, while The Lions' players protested. Baldé bore on goal to round Dingwall who brought him down for a penalty but referee Emile Fred inexplicably did not blow his whistle and The Lions rode their luck.
Baldé, though, was furious as he made his views known to the official who showed him a straight red card for dissent and leave his team with 10 men.
In the 87th minute, The Lions were again furious with referee Fred who denied them a blatant penalty as Harry Libanotis handled a pass forward by Joubert but the referee was not convinced.
At the end of the match, The Lions camp showed their frustration towards the officials as they lost a key match which might see them relegated.
R. J-L.