Local dancers take part in tap dancing workshop
25-October-2011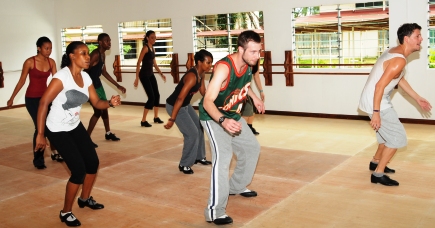 Present at the workshop, held as part of the ongoing Creole Festival activities, was Georgina Dhillon, the workshop sponsor and coordinator, as well as members of the School of Dance.
A Seychellois herself, Mrs Dhillon said she decided to put up the workshop after she realised Seychellois are made up of different origins – Europeans, Africans and Asians.
"Since we are now celebrating the Creole Festival, I thought tap dancing as an artistic expression would symbolise the fusion of those different nationalities that make us such a unique set of people," she said.
She added that by incorporating tap dancing into our culture we are also adopting from other different Creole cultures such as Louisiana, Haiti and Martinique.
"So by bringing tap dancers to Seychelles we can slowly begin to create our own type of tap by incorporating the moutya to the original art form for example, so it might be called the Seychelles Creole Tap," she said.
Mrs Dhillon said tap dancing will be taught in other schools as well, starting with Anse Royale secondary and she hopes the dance will catch on.
"We hope to be able to hold weekly sessions as soon as we can set up a venue and members of the public are free to contact me for any information they might need," she said, adding that she sees the emergence of tap dancing in Seychelles as a form of youth development in the country.
In par with the Creole Festival, Mrs Dhillon is also introducing a new magazine named Magazine Kreol which is being distributed in Seychelles as well as overseas.
Members of the public wishing to contact her can do so on 2511124.