Doors of Maison Quéau de Quinssy open once again-● Ambassadors and consuls gather for annual conference
25-October-2011
This year, the showcasing coincides with the annual gathering of Seychelles' ambassadors and consuls.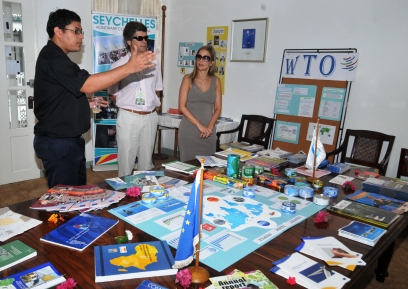 Addressing ministers, Seychellois diplomats as well as heads of foreign diplomatic missions in Victoria at the official launch of the Open Day yesterday, the ministry's principal secretary, Maurice Loustau-Lalanne, said that since 2004 the number of embassies abroad has grown from two to eight.
There are also 86 honorary consuls in 60 countries, the majority of whom are present for the gathering.
Mr Loustau-Lalanne noted that a new diplomatic mission opened in September in Abu Dhabi, with Dick Esparon accredited and the mission fully operational.
He said that subject to budgetary approval, it is hoped to have two more diplomatic missions, one of which will hopefully open next year.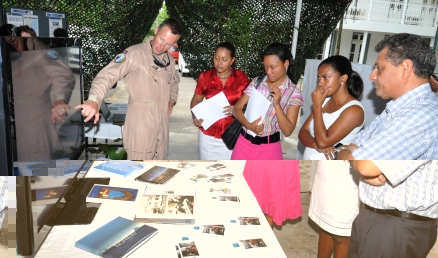 Before inaugurating the Open Day -- with the main themes for viewing being: Environment, Climate Change, Piracy and Maritime Security, Regional Integration and Development -- the Minister for Foreign Affairs, Jean-Paul Adam, said that in that exhibition, it is possible to see some of the results of Seychelles' active diplomacy, as well as the active role played by many of our partners.
He noted that President James Michel has also spoken of the need for a government that is strongly connected to the people it serves.
"And we believe that our foreign policy must be anchored in our community."
He said it is no accident that this year the ministry also has its Open Day coinciding with the honorary consuls' conference.
"Our honorary consuls bring our diplomatic representation to another level. We are proud and grateful for their contribution. We are blessed to have so many friends who are proudly flying our flag in so many corners of the world," he said.
Noting that the problem of piracy is never far from our minds, Minister Adam recalled that Seychelles recently hosted a high level conference to further enhance the debate on how to tackle the issue.
Among other positive developments coming up soon, he said Seychelles will shortly be hosting the regional coordination cell for the Indian Ocean Commission anti-piracy project worth 27 million euros.
This project will aim to build the capacity of all countries in our region to better face up to piracy, he said.
Seychelles will also host a Maritime Analysis and Operations Centre (MAOC) with the support of the International Maritime Organisation and friendly governments, including the UK.

Minister Adam went on to note that with the next round of negotiations on climate change coming up in Durban later this year, Seychelles' diplomatic efforts are also concentrated on achieving a more effective mechanism for island states to adapt to climate change.
During his recent visit to Australia, President Michel reminded us:
"Let us put people, and the science available to improve the lives of our people, at the centre of the climate change debate. The climate change debate should not be about who pays for what. It should be about how to help those who need it most."
Minister Adam said our challenge is to get fast track funds disbursed as soon as possible.
We are most appreciative to all our partners who have already engaged with us on climate change mitigation projects, and renewable energy projects, but the bulk of funds remain virtual.

"We shall not stop until there is real momentum for real change," he said.
Members of the public have until 12 noon today to view the displays in the exhibition.