Seychelles and China discuss transport related projects
25-October-2011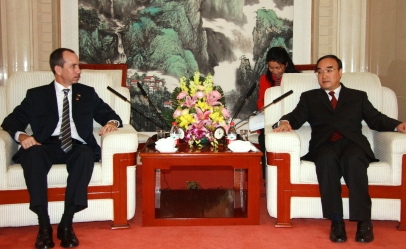 The Minister for Home Affairs, Environment, Transport and Energy, Joel Morgan, met the Chinese Vice-Minister for Transport, Weng Mengyong, in Beijing last Thursday as part of the working visit by President James Michel's delegation to the People's Republic of China.
During the meeting, discussions centered on cooperation in transport infrastructure projects in Seychelles with the focus being on the Victoria bypass road project and the development of port infrastructure for Port Victoria.
The Victoria bypass road project is aimed at removing the need to go through central Victoria for traffic going from north Mahe to the South and vice versa and forms part of the master plan for the development of greater Victoria in order to alleviate traffic congestion within the city.
The need to modernise the port infrastructure of Port Victoria was discussed and Mr Morgan explained that in order that we remain a competitive port in the region, our port facilities and infrastructure need to be rapidly modernised.
Vice-Minister Weng and his delegation indicated support for the continued development of the transport infrastructure in Seychelles and proposed that his ministry explores with the Seychelles department of Transport and Energy the possibilities for developing cooperation in those projects further.
Another meeting was also held on that same day with the National Energy Administration of the People's Republic of China. Philippe Morin, principal secretary in the department of Transport and Energy and Glenny Savy, chief executive of the Islands Development Company (IDC), met Mr Wang Jun, director general for New Renewable Energy, to discuss energy challenges and development and use of energy in their respective country.

The discussion focused on the production and use of renewable energy in order to achieve higher levels of diversification of the energy base and protection of the environment.

It transpired from the meeting that there is strong similarity in the principle supporting the approach taken by both China and Seychelles in the fields of energy efficiency and conservation.
The two sides discussed renewable energy projects in Seychelles currently under consideration for funding by the Chinese government such as; solar photovoltaic lighting installation on Mahe and La Digue and pilot anaerobic digestion plants to turn organic wastes from farms into methane gas.
The Seychelles side also apprised their Chinese colleagues of the renewable energy projects which Seychelles would like to undertake on an independent power production (IPP) basis.
The People's Republic of China is committed to perfecting its renewable energy technologies and this is manifested by the fact that today China is one of the leading exporters of renewable energy technology.
China has also huge potential for renewable energy which it continues to develop.

China and Seychelles firmly believe in renewable energy and both sides have agreed to continue developing their partnership in renewable energy.