AfDB pledges continued support
28-October-2011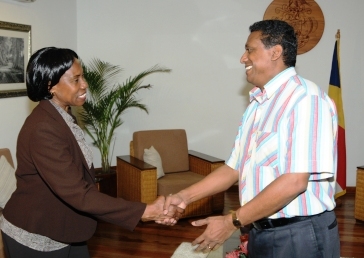 The assurance came from the AfDB's executive director Mary Muduuli yesterday after she consulted with Vice-President Danny Faure in his capacity as the governor for Seychelles at the AfDB, to see how best the bank can further serve this country.
She said Mr Faure – who is also the Minister for Finance and Trade – updated her on the current status of the economy.
"I'm very pleased with what I heard. The government is continuing with the macroeconomic reforms, doing the best it can in handling the challenges brought by the Euro-zone crisis which is impacting this economy directly because it is based on tourism," she said.
She said the AfDB has already helped Seychelles in infrastructure development particularly in the area of information communication and technology.
"The bank has already done a water master plan and there will be investments to follow that plan, she said.
"We are also doing a master plan for the fisheries sector which will produce ideas on where we can make some interventions, and the good thing is that the bank can leverage some other players including the private sector to come and play their role in the economy," she said.
She commended Seychelles' efforts to develop tourism and conserve the environment.