Water restrictions lifted on all islands
28-October-2011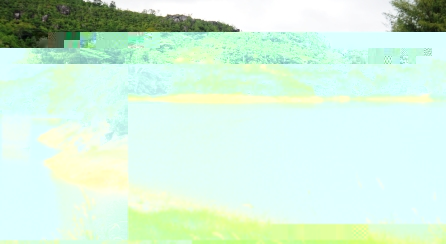 La Gogue dam is slowly filling up and our normal rainy season is expected in two weeks, PUC and meteorological services said yesterday.
The dam is 56% full and is filling up at the rate of 1% on dry days and 2% when it rains and the desalination plants are largely on standby.
PUC's chief executive Robert Stravens said the amount of rain that has been falling is seen to be satisfactory, hence the "removal of the water restrictions in all areas on Mahe, Praslin and La Digue.
"This is allowing the corporation to focus on reducing water losses in the system through leaks.
"However, it is still monitoring the situation on a daily basis by focusing on available water supply and weather forecasts."
Meteorologist Saidi Hasan Saidi told Nation the rainy season is expected to start in two or three weeks' time, but "intermittent showers and other weather events are common during the transition period we are in".
Mr Stravens said water levels "not only in the La Gogue dam but also in other reservoirs are monitored everyday to decide on the level of restrictions to impose".
"PUC's desalination plant capacities are also taken into account when calculating the water supply. So even if the corporation decides not to use the plants on any particular day, having the ability to produce water when needed allows the corporation to draw more water from its water storages and to ease restrictions knowing that it has an alternative supply if forecasts prove to be slightly inaccurate," he said.
"The decision to remove water restrictions has been taken because forecasts for the next two months promise above average rainfall. In October the water level in the La Gogue Dam has been increasing by one or two percent per day."
He said the PUC will keep on closely managing the situation by restricting supply or increasing the use of desalination water when needed.
"Removing or easing restrictions is better for our consumers in many ways. Firstly it allows us to satisfy the immediate water demands of our consumers. This brings us more income at the same time our running costs are greatly reduced as we use fewer bowsers.
"Bowser delivery provides water which is often not sold, and has a very high cost to PUC.
Secondly removing restrictions frees up our teams to fix the network water leaks. Reduced leaks allow more water to reach our consumers, further reducing our costs as we have to treat less water.
"To do this has required us to use our desalinated plants when there hasn't been enough rain water, which use more energy but the savings and increased sales balance this out, and most importantly allows us to provide our customers with the service they want," he said.