Mancham to be guest of honour on Etihad's inaugural flight to Seychelles
29-October-2011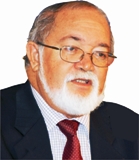 Mr Mancham, who left Seychelles for the United Arab Emirates (UAE) on Thursday on the way to Abu Dhabi, will be accompanied on this historic flight by Mallallah Al-Ameri – the UAE's accredited ambassador to Seychelles.
In a statement yesterday before boarding the Emirates flight to Dubai, Mr Mancham said he highly valued the invitation.
"Abu Dhabi, capital of UAE and seat of its government, is a city symbolic of modern progress and dynamism; the establishment of direct links between Seychelles and Abu Dhabi by what is regarded today as the 'world's leading airline' is therefore a most important development projecting much hope for the future," Mr Mancham said in the statement.