Singapore tour operators awed with Seychelles' visit
29-October-2011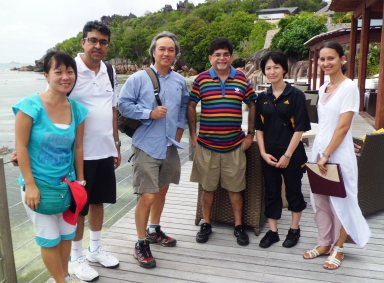 The four agents, who were here for the first time, travelled to Seychelles to learn more about the mid-ocean Creole islands and what they offer.
Koh Nancy from Chan Brothers, Yoshizumi Miyuki from HIS, Ram K Samtani from Ramesh Travel and Timothy Tan from Eco Adventures formed part of the group and they were accompanied on the trip by Martin Suresh, the general sales agent for Air Seychelles in Singapore as their tour leader.
The eager group experienced first-hand Seychelles' hospitality by flying in the country on the national airline Air Seychelles, enjoying the comfort of both the economy and business (pearl) classes.

Local destination management companies (DMCs) Creole Travel Services, Mason's Travel, 7°South and Select Seychelles helped organise their visit.
The group has described all the DMCs as very professional with good knowledge of the islands and meeting their ground-handling requirements with efficiency.
Having a detailed itinerary, the group visited various hotel establishments on Mahe, Praslin and La Digue such as the Sunset Beach, Berjaya Beau Vallon Bay Resort & Casino, the Constance Group Ephelia and Lemuria Hotel, Raffles Resort, Le Méridien Fisherman's Cove and Le Méridien Barbarons, as well as L'Océan on La Digue.
Culinary tasting was also part of their Seychelles experience. They were able to savour various dishes that the hotels offered on their menu, and at the Lémuria hotels and Raffles Resort they had the possibility to enjoy the resorts' incredible fine dining.
The group also had the opportunity to sample Seychelles' creole cuisine, which they described as interesting, palatable and always fresh.
"Members of the group commented that Seychelles is indeed a paradise for nature lovers as they were blown away by the coastline and the picture-perfect sandy beaches and ancient forests," said Mr Suresh after touring the islands.
He is thankful to Air Seychelles, the STB, Berjaya Beau Vallon Bay, Constance Lemuria Resort, Raffles Praslin, Le Méridien Barbarons, Creole Travel Services, Mason's Travel, 7° South and Select Seychelles for the great job of overseeing their travel arrangements, their journey and stay in Seychelles.