Hindus spread colours of happiness for Diwali
29-October-2011
Former Vice-President Joseph Belmont had the honour of lighting the Diya lamp – marking the triumph of good over evil, the victory of righteousness and the lifting of spiritual darkness.
Social Development and Culture minister Bernard Shamlaye read out President James Michel's message for the occasion.
President Michel wrote that in Diwali there are the messages of hope, the belief in our humanism, the powerful sense of our inner self to do good and help others.
"That is why the Diya lamp is the symbol of the power of light, of good, and its victory over ignorance. This time for prayer and rejoicing is also an occasion of family gathering, of love in the community.
"In Diwali we see the importance of harmony and tolerance within our society. Seychelles, an exemplary model of a country of different faiths living together peacefully and harmoniously, is happy to be part of the worldwide celebrations of Diwali," wrote President Michel.
One of the most important festivals of the year, Diwali is normally celebrated in families between mid-October and mid-November.
Locally based Hindus performed traditional dances and they were joined on stage by Seychellois who danced the kamtole for those present.
Firecrackers also lit up the sky, driving away evil spirits.
The Diwali festival starts with Dhanteras on which most Indian business communities begin their financial year. The second day of the festival, Naraka Chaturdasi, marks the vanquishing of the demon Naraka by Lord Krishna and his wife Satyabhama.
Amavasya, the third day of Diwali, marks the worship of Lakshmi, the goddess of wealth in her most benevolent mood, fulfilling the wishes of her devotees.
Meanwhile, the Berjaya Beau Vallon Bay Hotel organised the 'Banana Leaf Dinner & Show' on Wednesday night to celebrate the festival of Diwali.
Former Vice-President Belmont and his wife, Designated Minister Vincent Meriton, Indian high commissioner Thanglura Darlong, Court of Appeal president Francis McGregor, Chief Justice Fredrick Egonda-Ntende, and members of the diplomatic corps were some of the guests on the night.
Berjaya Beau Vallon Bay Hotel general manager Ken Choo said he hopes high commissioner Darlong will be able to elevate the already strong relationship between Seychelles and India to a much higher level.
He said the event was organised to promote cultural tourism here, before thanking all who helped organised it.
Accompanying this article are some of the photos taken at the two events.

Photo by Patrick Joubert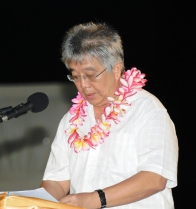 Photos by Patrick Joubert




Photos by Patrick Joubert




Photo by Niko

Photo by Niko