Work ongoing to eradicate mynahs on Denis Island
31-October-2011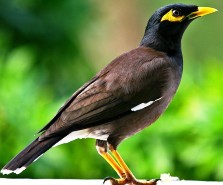 A project is ongoing on the island to eliminate these invasive bird species and up to date a total of 931 of these birds have been killed, leaving less than 100 to be eradicated.

A group of conservationists and individuals from various environmental organisations learned more on this eradication project through a talk held last week.
The aim was to highlight lessons learned on practical aspects of eradication of invasive bird during studies carried out on two South Atlantic Ocean islands -- St Helena and Ascension Island, and on Denis Island in Seychelles.
The talk, conducted by Professor Chris Feare from Wild Wings Organisation, focused on the eradication of invasive birds from tropical ocean islands.
During his presentation, he gave an overview of the background to invasive bird eradications on all the three islands, catching techniques used, problems faced and how data is collected.

Professor Feare also gave details about the restoration on Denis Island.
Mynah eradication was attempted in 2001 by the use of starlicide and shooting which was not totally successful.
The presence of introduced endemics places constraints on the techniques used in the process of eradicating these invasive species.
Among the challenges faced is the interference of other animals in the process of catching these birds. He also talked about the common mynah impact on endemic bird species on Denis Island.
He added that though eradication might be possible, a high level of vigilance must be maintained on the island if there should be a re-invasion of mynahs.
Professor Feare said it is important to have an education programme on the island for the staff and tourists so that they know what is going on and the reasons for the ongoing project.
He added that there is limited distribution on the island, though it has been observed that about 20 of these mynahs flock on the airstrip on evenings and as a result new traps are being introduced.
GIF's project manager James Chang-Tave said studies carried out have shown that endemic birds introduced on the island are being attacked by these mynah birds.
"Evidence has shown that the injuries on the endemic birds caused by these mynahs are slowing down the process of restoring the stock of the endemics on Denis Island," he said.