Pot Pourri D'Art at Kenwyn House
31-October-2011
The exhibition, under the theme Pot Pourri D'Art, will remain open until November 4.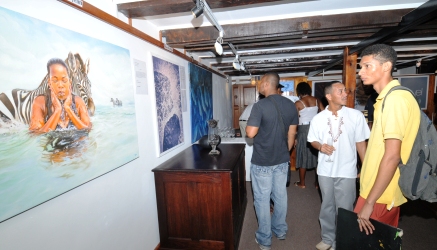 The inauguration took place on Thursday last week in the presence of Social Development and Culture Minister Bernard Shamlaye, the artists and their families and other persons interested in local art.
The paintings are contributions by such popular artists as Egbert Marday, Allen Ernesta, Johnny Volcere and Nigel Henri, but also include some new figures, such as Egbert Jean and Marsha Dine, recently graduated art students from China.
Egbert Jean is developing his work in a field called "fantasy", whereby he often takes a photo, then develop it into a painting or a sequence.
Other paintings include seaside scapes by Camille Mondon, an old grann kaz by Jude Bouzin and impressive coco de mer palms set in verdant garden – the acrylic style of Paul Gilbert.
There are also wood carvings by Steve Marie, including a huge kalou pilon.
Several artists present, notably Marday and Emmanuel D'Offay, praised Kenwyn House for consistently promoting our local artists.
Ms Alvina Uranie, art curator of Kenwyn House, said the House had taken on the challenge of supporting the artists, noting that there is always local art on display or on sale at Kenwyn House.
She said the business was proud to have become a platform allowing artists to showcase and promote their work.
The opening also featured music played by a Seychellois group based in Montreal, Canada. The group called Sekwe, consists of Christophe Prea playing the traditional instrument bonm, his wife and daughters, all playing and singing in Creole.