India and Seychelles review cooperation priorities
31-October-2011
Mr Ansari was heading the Indian delegation to the CHOGM.
"Seychelles and India share a common destiny, common values, and a common ocean. India has always been by our side to reinforce security and combat the scourge of piracy," said President Michel during the meeting.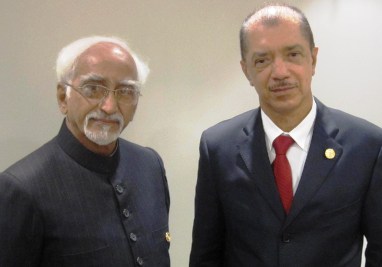 President Michel and Vice-President Ansari reviewed the status of the anti-piracy effort, and President Michel expressed appreciation of the recent Indian effort to boost Seychelles' capabilities to respond to the maritime threats.
Vice-President Ansari said that India would do everything in its capacity to assist Seychelles.
President Michel noted that the cooperation under the Indian Technical and Economic Cooperation (Itec) programme is going well and is on track.
Mr Michel said air links between India and Seychelles would need to be improved and called for greater efforts to increase tourism inflow from India to Seychelles.
Scientific and maritime research opportunities were also discussed, in view of the recent seismic surveys conducted in the Seychelles Exclusive Economic Zone.