Volleyball: Super Cup-Arsu and Premium Spikers champions
31-October-2011
In the finals played on Saturday at the Palais des Sports, Arsu defeated Cascade while Premium Spikers were victorious over rivals Beau Vallon. They both won their finals on 3-1 scores.
After winning the first two sets 25-18 and 25-23, Arsu failed to maintain their tempo, allowing Cascade to come back and win the third set 25-23, forcing the women's final into a fourth set. Arsu regained their momentum and won the set 25-22 and the match 3-1.
In the men's final, Premium Spikers won the first two sets 25-17 and 25-23, before Beau Vallon regrouped to win the third 27-25. Premium Spikers then took the fourth set 26-24 to win the match 3-1 and go home with the first Super Cup title.
In the women's semifinals, Cascade beat last year's league champions Friends 3-0 (25-10, 25-18, 25-23) and Arsu needed four sets to beat OSC Comets 3-1 (23-25, 25-19, 25-6, 25-9).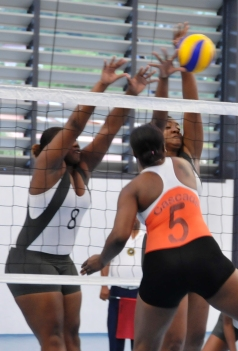 Premium Spikers whitewashed Neo Boyz 3-0 (25-15, 25-16, 25-19) and Beau Vallon needed 105 minutes and five sets to overcome Racing Club 3-2 (25-23, 16-25, 17-25, 25-17, 16-14) in the two men's semis.
R. D.