Football: Barclays league division one-St Michel retain league title,St Louis Suns secure status
31-October-2011
On Saturday, St Louis Suns secured a much-needed 4-1 win against LightStars to guarantee their stay in the top flight, while Côte d'Or coasted to a 3-1 victory against St Francis and La Passe walked over St Roch.
St Michel v Anse Reunion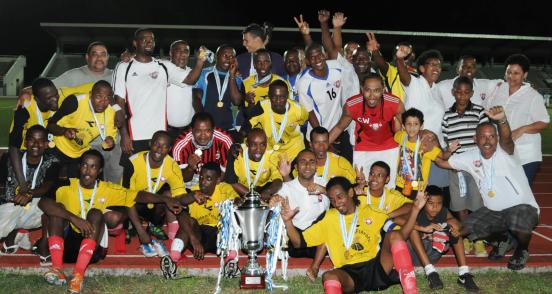 The celebrations were rather muted as was the match as the St Michel squad had just attended the funeral of the mother of their colleague Francis Nourrice prior to kick-off.
Therefore, the match kicked off in a somber mood and even the two teams turned up with red jerseys. The St Michel management had to go and fetch another set of uniform which meant the match started 20 minutes late.
St Michel though were up for the job and threatened as early as the sixth minute from Alex Nibourette's cross to Karl Hall whose right foot volley was saved by goalie Ricky Rose.
Two minutes later, St Michel took a decisive step towards winning the championship as Gervais Waye-Hive linked up with Don Anacoura who fed Wilnes Brutus and his left foot shot went in despite Ricky Rose's attempt to keep it out (1-0).
In the 10th minute, St Michel should have increased their lead as Nibourette carved open the Anse Reunion defence to pass the ball to Brutus who cleverly dummied allowing it to roll to Waye-Hive who should have hit the target but somehow fired in the side-netting.
Sensing a rout, Anse Reunion began to put more players behind the ball to deny St Michel space and time to hurt them. In the 29th minute, though Anse Reunion's Bernard Rose could not help but deflect Brutus' header past his brother Ricky Rose to make it 2-0.
St Michel were still dangerous when they upped the tempo and in the 34th minute, Nibourette made space to pick out Brutus whose header was blocked by an alert Ricky Rose.
Two minutes later St Michel were just unlucky as Hall combined superbly with Nelson Laurence with a series of one-two to release the lanky midfielder whose low shot came off the foot of the post as Anse Reunion rode their luck.
St Michel pulled off the injured Allen Larue early in the second half to bring on Andy Mougal as they played with only three at the back and pushing more men forward in search of goals.
They were rewarded in the 53rd minute as Brutus broke clear on the right to put an inch-perfect cross on the head of Hall who easily scored for a 3-0 scoreline.
Just past the hour mark, St Michel produced a great passing move led by Anacoura and involving Waye-Hive and Hall but Anse Reunion's Pierre-Luigi Nibourette made a last-ditched tackle to deny Anacoura a goal.
Eight minutes later though Anacoura should have done better as he exchanged passes with Mougal but failed to hit the latter's return pass on target.
Anse Reunion, who had been on the defensive for most of the match, stunned St Michel in the 72nd minute as Steven Pool released Malagasy Jean-Estel Baransuice who raced clear and rifled low shot past goalkeeper Nelson Sopha for a 3-1 score.
St Michel brought on Godfrey Denis to tighten their backline as Anse Reunion became more offensive with nothing to lose in the last 15 minutes.
However, it was St Michel who scored again in the 83rd minute as Anacoura played a short corner to Joel Barbé who floated the ball to substitute Leeroy Corallie and he was given all the time in the world to control and perform a brilliant overhead kick which flew past Ricky Rose to make it 4-1.
Anse Reunion cut the deficit in the 89th minute as captain Norvil Gaspard centred to substitute Evans Elizabeth whose diving header found refuge in the net for a final score of 4-2.
The St Michel supporters celebrated another success and were presented with their cup and medals by Seychelles Football Federation chairman Suketu Patel and Barclays Bank's acting managing director Alam Mahbooh.
St Michel manager Andrew Jean-Louis told Sports Nation he is pleased with this team's achievement.
"We deserve the title as we have been very consistent and today we were confident of victory. It has been a hard and long season, but we have managed to remain focused to achieve our goal of retaining this prestigious title," said manager Jean-Louis.
Congratulations St Michel on another milestone achievement.
St Louis Suns v LightStars
St Louis Suns had all to play for in this match as only a win would be good enough to secure their safety and their die-hard fans were there to cheer their beleaguered team.
The players on the pitch got off to a flying start as they opened the scoring in the third minute when Kelly Nibourette latched onto a through-ball to drill home a low shot to make it 1-0 to the delight of the supporters.
St Louis Suns were turning on the style against a LightStars squad who had nothing to play for and in the ninth minute, Mervin Mathiot set up Ryan Antat whose fierce shot was pushed onto the post by goalkeeper Denis Fideria.
In the 26th minute, St Louis Suns' Antat released Roddy Melanie whose instinctive centre across goal fell to Nibourette who side-footed into the net to complete his brace for a 2-0 lead.
A minute later, St Louis Suns were rampant in a carbon copy move of their second goal. It was again Antat and Melanie who combined superbly to lay the ball on a plate for Mathiot who rammed it home for a 3-0 score.
LightStars were out of sorts in defence and in the 38th minute, Antat pounced on captain Renick Esther's mistake to thread a pass to Mathiot who only had to lob Fideria who was way off his line, but he fluffed the opportunity with the goal begging.
Mathiot did not return for the second half through injury and Trevor Poiret replaced him after he was himself sidelines for some time on medical advice.
However, it was LightStars who tested goalkeeper Joel Lesperance in the opening second of this period when Andrew Jean cut inside from the right to shoot at goal but the St Louis Suns custodian was equal to the task.
At the other end, in the 46th minute, Antat burst through and should have gone for glory but tried to set up Melanie who blew a good scoring opportunity.
In the 53rd minute, LightStars' Ernesto Doway got the better of his marker to unleash a stinging shot which Lesperance pushed out to Jean but he rifled the loose ball across goal.
LightStars reduced the arrears in the 66th minute as their livewire Malagasy striker Mario Ravo twisted and turned on the penalty area before curling a shot past Lesperance to make it 3-1.
The goal rattled St Louis Suns who had slackened a bit and in the 70th minute Doway should have done better as he held off the challenge of Serge Asba but thumped his shot in the side-netting.
In the 72nd minute, St Louis Suns should have gone further ahead as captain Eddie Bistoé picked out Melanie on the right who fed Nibourette who should have completed his hat-trick but Fideria denied him with a good block.
Melanie also went close for St Louis Suns in the 84th minute as his beautiful curling shot looked destined for the top corner but somehow came off the post.
On the stroke of full-time, St Louis Suns scored a breakaway goal as Antat, who had worked tirelessly in midfield on Saturday, made a long clearance from a LightStars corner. Poiret controlled the ball superbly to weave his way into the box and elude a defender to lay the ball to substitute Yannick Charlette who coolly slotted it in the far corner for a 4-1 score as their disastrous season ended on a high note.
Coach Marc Mathiot told Sports Nation his players put on a good display especially in the first half.
"We played exceptionally well in the first half and the early goals helped us as our opponents did not worry us," Mathiot said.
St Louis Suns moved to eighth place on the league table, leapfrogging St Roch who did not travel to La Digue apparently due to financial constraints.
St Roch have lost heavily on their last two trips to Praslin and La Digue during the last two weekends, conceding 17 goals in total.
St Roch can even be relegated if The Lions beat Northern Dynamo by more than three goals today after the match originally scheduled for yesterday was postponed because of bad weather.
Côte d'Or v St Francis
Côte d'Or continued their superb season as they ended the league campaign on a good note brushing aside the challenge of St Francis 3-1 at the Amitié Stadium.
Côte d'Or scored all three goals in the second half when Marcus Zialor opened the scoring, while Hubert Ernesta and Collin Esther scored a goal each to give their team a deserved win.
Nicholas Atala scored a consolation goal for visitors St Francis.
R. J-L.