Seychelles' unique beauty highlighted in photo shoot
02-November-2011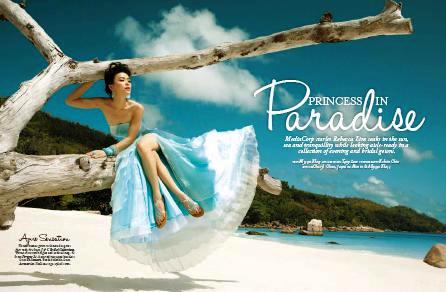 "This project was initiated by the Seychelles Singapore office in June 2011 in collaboration with the Raffles Hotel of Praslin," said Maria Morel from the Seychelles Tourism Board's Singapore office.
The article and pictures seen on http://lifestyle.xin.msn.com/en/magazine/style-weddings/feature-ar.aspx?cp-documentid=5428649 is entitled 'Princess in Paradise'. The review is about MediaCorp starlet Rebecca Lim soaking in the sun, sea and tranquility in the tourist destination islands of Seychelles while looking aisle-ready in a collection of evening and bridal gowns.
Seychelles Tourism Board chief executive Alain St Ange said the photo shoot managed to capture the extraordinary beauty of Seychelles as they showcased the spectacular collection of evening and bridal gowns.
"Seychelles is one of the very few countries that when you land you always say that the pictures you have seen before do not do justice to the beauty of the islands," said Mr St Ange.
Seychelles continuously invites the international press and people responsible for photo shoots to visit as the country has nothing to hide.
"A beautiful country we have, amazing beach scenes with turquoise blue seas as the backdrop. We have diversity in island settings, we have big granitic boulders shaped to every taste," added Mr St Ange.