Basketball: Barclays Bank-sponsored primary school tournament-Anse Boileau and Baie Ste Anne winners
02-November-2011
Teams from various primary schools around the country took part in the competition organised by the Seychelles Basketball Federation.
In the boys' final, Anse Boileau defeated Baie Ste Anne 8-5, while in the girls' final, Baie Ste Anne were the winners over Anse Royale. The final score was 20-2.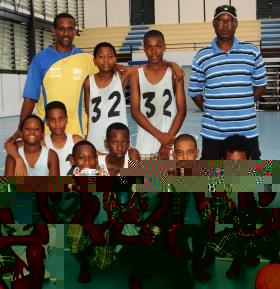 Anse Boileau's journey to the final started with a 20-4 victory over Mont Fleuri in the quarterfinal and in their semifinal they defeated Beau Vallon 14-11.
As for Baie Ste Anne, they beat Anse Aux Pins 4-2 in the quarterfinal, before winning 12-10 over La Rosière in the semifinal.
In the girls' competition, Baie Ste Anne easily swept aside Plaisance 44-0 in the quarterfinal before entering the final with a win by walk-over against Independent School.
After winning a bye in the quarterfinal, Anse Royale defeated Mont Fleuri 12-6 in the semifinal to book their final spot.
Angela Jeannevol of Baie Ste Anne received the award for the tournament's best female performer, while Aurelien Mémé of Anse Boileau won the best boy trophy.
The winners received their cups from Barclays Bank representative James Savy.
R. D.