New regional programme to build capacity of small islands
03-November-2011
During a half-day workshop held at the Seychelles Fishing Authority (SFA) training room recently, experts from the Indian Ocean Commission (IOC) presented the programme, its objectives and nature to stakeholders who included representatives from the Department of Environment, Divisions of Risk and Disaster Management (DRDM), the meteorology department, the Marine Parks Authority, and also members of the Environment Management Plan of Seychelles (EMPS) and climate change committees among others.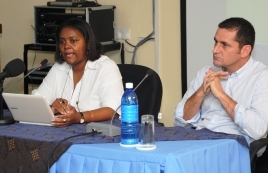 Delegates listening to a presentation during the recent workshop here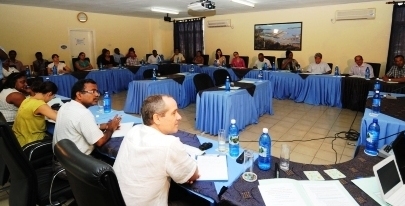 The programme, the Implementation of the SIDS 'Mauritius Strategy' which is a United Nations Strategy, was adopted by 129 countries and territories in a global conference held in Mauritius in 2005.
The programme, which is being carried out by the IOC in its member states, will also include Zanzibar as an island and it is being funded by the European Union at a sum of €10 million for a period of three years.
The recent workshop here was organised by the Department of Environment in collaboration with the IOC. Some members of the team of experts working with the IOC to carry out the programme in the various countries led the working session. They were the team leader Christophe Legrand, Christophe Raoelina, and Gina Bonne, who is responsible for environment and natural resources in the IOC.
The programme concerns four main areas: climate change, disaster management, protection of coral reefs, and capacity building.
Its main aim is to contribute to an increased level of social, economic and environmental development and deeper regional integration in the region through the sustainable development of Sids.
At the end of the programme it is expected, among other outcomes, that:

• A monitoring and evaluation system for the implementation of the Mauritius Strategy is developed and is operational at national, regional and international level

• A disaster insurance scheme against natural disasters is developed.
Ms Bonne said for Seychelles, the programme will be run by the ministry responsible for Environment which has the portfolio for the management and follow up of the EMPS and climate change.
Besides, the national focal point, Begum Nageon de Lestang, is also based in the Environment Department.
She said within the IOC countries there are structures already in place and therefore it is best to build on what the various countries already have in order to realise the programme and ensure its sustainability.
"This also gives the IOC the possibility to better monitor the programme," said Ms Bonne.
She said countries are being given the opportunity to preside over the various regional committees in order to bring forward their views and discuss what is best for their respective countries and the region.
Seychelles will be presiding the regional committee on climate change as it was agreed it is well advanced and has lots of experience in this particular area.
As it is important that all countries concerned get the necessary information on the project, similar workshops are being conducted in all the countries.