Indian survey ship Sarvekshak visits
07-November-2011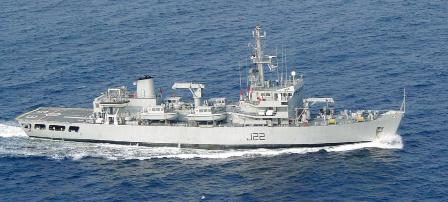 The ship is under the command of captain Adhir Arora – one of India's most experienced hydrographers.
This deployment, which adds one more chapter to the defence and maritime cooperation between India and Seychelles, will witness extensive hydrographic survey undertaken by the ship off Seychelles.
India is one of the leading nations in the field of hydrography and in the past it has carried out hydrographic surveys for a number of friendly partners in the Indian Ocean region. This deployment to Seychelles is being undertaken by the Indian navy on the request of the government of Seychelles.
While the Sarvekshak will be in Port Victoria, Seychelles People's Defence Forces and the Seychelles Coast Guard personnel will receive extensive training in counter-piracy drills and boarding operations, damage control, fire fighting and first aid.
The crew of Sarvekshak will also provide technical help to the Seychelles Coast Guard. The ship will also operate in close coordination with the Islands Development Company and the Seychelles Islands Foundation.
During this deployment, Seychelles Coast Guard personnel will be trained in various aspects of hydrographic survey, navigation and seamanship. Sarvekshak will also be calling in ports in the region for brief turn around.
The name Sarvekshak signifies 'the one who surveys the hidden dangers'. The ship has a displacement of 2,000 tonnes, with a complement of 15 officers and 190 sailors. She carries an array of the most modern hydrographic, oceanographic, geophysical equipment and systems. These include the most modern and high end digital survey and processing system, multi-beam swath echo-sounding system, the latest GPS surveying systems, gravimetres, magnetometres, sound velocity profiling system, and such like which together provide the ship with the capability of mapping the seabed features accurately.
The visit of Sarvekshak is a further demonstration of enhanced bilateral cooperation between India and Seychelles on maritime issues. The survey work performed by Sarvekshak will be of immense help to Seychelles in the fields of fishing, ecosystem preservation and management, establishment of artificial reefs, delimitation of the continental shelf of Seychelles and safe navigation of ships and crafts. The entire expense of the survey work and the printing of navigation nautical charts are being borne by the Indian government.
Captain Adhir is a specialist in hydrography and also a charge hydrographic surveyor. He has held important appointments in active survey duty onboard ships and at various levels, including that of senior instructor at the National Hydrographic School, Goa, India.