The importance of public sensitisation in DRDM
07-November-2011
The people who suffer the most are usually those with the least resilience and with few, if any, resources of their own.
Disaster preparedness is the composite readiness of a nation or community to meet an emergency. It puts in place the means with which to respond to a disaster and to start the process of bringing a community back to normal after a disaster.
In Seychelles one of the main responsibilities of the Division of Risk and Disaster Management (DRDM) within the Environment Department is to turn available human knowledge into specific local action to reduce risk of hazards.
DRDM mobilises people through clear disaster messages supported with detailed information, helping individuals and society to learn how to avoid unnecessary risk and what to do in the event of a disaster.
Local populations in disaster-stricken areas are the first to respond to a disaster. They are usually involved in search and rescue activities as well as in providing emergency treatment and relief to their families, friends and neighbours.
This implies that disaster preparedness and response are not solely the work of experts and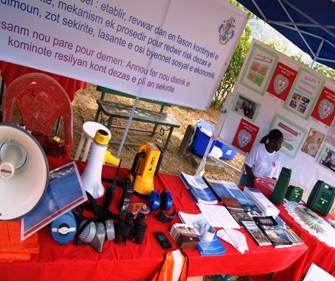 emergency responders from government disaster organisations.
To improve the skills and knowledge of these "spontaneous" disaster responders such as volunteers, citizens, organisations, businesses and every member of our national society; The work of DRDM in partnership with other emergency organisations is to provide them with education and training in preparedness measures, basic rescue techniques including first aid and emergency treatment.
The aim of public awareness and education programmes in DRDM is to promote an informed, alert and self-reliant community, capable of playing its full part in support of and in co-operation with government officials and others responsible for disaster management activities. This objective is supported by public education campaigns, training of response teams and rehearsals of emergency response scenarios.
Although television, radio and printed media will never replace the impact of direct instruction, public awareness in DRDM makes use of sensitively designed and projected messages which can provide useful supplements to the overall process.
Contributed