Basketball: Men's division one championship-Hawks achieve league hat-trick in sombre mood
07-November-2011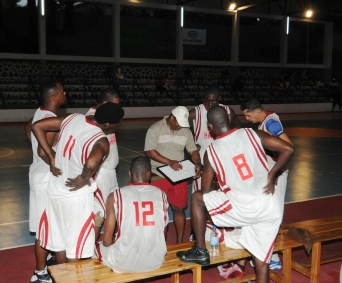 PLS Hawks had no trouble beating MBU Rockers 88-73 on the back of 39 points and a series of slam dunks from Nigerian Alao Solomon inside an almost-empty Victoria Gymnasium in the final division one league match to close the championship on 34 points – one more than runners-up Premium Cobras.
The Hawks finished with 16 wins in 18 games, the Cobras got 15 and the Rockers 13 for 31 points and third place – their highest finish in a very long time.
Coach Clifford Joubert, who led Seychelles to winning the men's Indian Ocean Island Games gold medal for the first time in August this year, once again spearheaded PLS Hawks to extending their championship wins to seven in 12 years – in 2001, 2002, 2005, 2007, 2009, 2010 and 2011 – making them the most successful team of the club era which started in 1993.
Unhappy with the many changes in the league fixtures which have affected their game and kept spectators away from the venues, veteran power forward Jim Domingue, who has played for the Hawks in two different eras – regionalisation in the 1980s and club since 1993 – said "Seychelles' champions PLS Hawks deserve some respect."
"We play hard to win matches and titles, therefore people should show us the respect we deserve. It's high time those involved in the running of basketball work to promote the game. It's sad the spectators have stayed away today (Saturday) when I thought the gold medal-winning performance of the men's team at the IOIG would have spurred them to come down in numbers. This is because the timing of the match is wrong with so many activities going on," Domingue told Sports Nation.
Assistant coach Alix Allisop said he is "happy the championship is over as the players had been losing interest lately."
He added that they will now gather the players to concentrate on retaining the Seychelles Basketball Federation Cup to complete a league and cup double like last year.
G. G.