Disaster contingency plan for industrial sector in the making
07-November-2011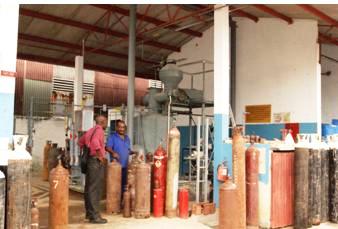 Under the leadership of the Divisions of Risk and Disaster Management (DRDM) in the Environment Department, these risks are being assessed and mitigated by disaster risk reduction measures for the development of a National Industrial Sector Disaster Contingency Plan under the "Seychelles National Disaster Preparedness and Response World Bank Project.
As such businesses involved in the usage of compressed gas are being covered under the situational analysis phase of the preparation of the National Contingency Plan for the Industrial Sector, local consultant Dr Gerys Cole preceded in the assessment of the different hazards and risks associated with industrial activities of the Victoria Port, by interviewing the director of the Liquid Air company.
According to the company's managing director, Yvon Govinden, the security of the delicate products has been maintained by the staff-in-house training from manuals received from associated industry in South Africa.
However, proper employee training and the implementation of safety equipment alone are not enough to prevent a disaster or even react in the event of intruding disastrous factors. Thus the location of the Seychelles Liquid Air Company at the New Port Victoria which lies within an active industrial area remains questionable.
The findings of Dr. Cole will be submitted to the international consultant, Michael D. Haseen, the chemical engineer who is also the leading consultant for this activity. It is hoped that after the production of the national plan the industrial sector will be more aware of such risks and better prepared to plan, mitigate and manage them. The plan is expected to be completed by October of this year.
Contributed