President Michel visits hostages' families-New tough measures against piracy planned
09-November-2011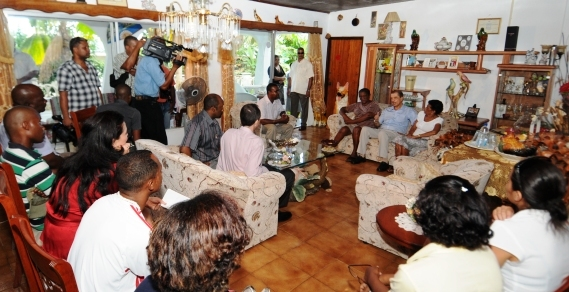 He then announced new, tougher measures the government plans to take so as to foil attempts by pirates who wish to take Seychellois as hostages.
These include a planned deployment of a contingent of foreign and Seychellois soldiers on fishing boats that want to take them on board, and better communication equipment on fishing vessels and for the Seychelles Coast Guard – including radars at their new base and on outer islands – allowing early alerts in cases of suspected piracy attempts and for the attacks to be dealt with at sea.
Mr Michel regretted that the two men have been taken captive, simply because the authorities were not aware the men were in danger in time, recalling in the last cases our forces intervened and prevented Seychellois hostages from being taken to Somalia as the two men have now been.
He said it pains every Seychellois and him as the President to see some of us captured, and said we all share the anguish their families are going through.
President Michel was accompanied by Designated Minister and Minister for Community Development, Youth and Sports Vincent Meriton – who heads the committee that leads social support efforts for hostages' families – and Home Affairs, Environment, Transport and Energy Minister Joel Morgan, who heads the high-level committee on piracy.
Mr Michel assured the families the government will do all that is possible to ensure the hostages are back in Seychelles as soon as possible.
He said on Monday one of the hostages briefly contacted the owner of the boat – who was present at the Belvedere meeting yesterday – and said there would be another phone call last night, hopefully shedding more light to help launch negotiations immediately, for which a team led by Mr Morgan has been on standby.
"We will know more clearly what demands they are making and what arrangements we need to make to ensure our people are back home," said Mr Michel.
Mr Michel said the calm seas have clearly encouraged pirates to resume their attacks – not just in Seychelles but other countries as well – but noted we will remain tough against them for we cannot simply let them come and attack us.
He said he has given instructions for severe measures against the attackers, noting he has persistently raised the issue of piracy and the disorder in Somalia wherever the chance has arisen at international and bilateral forums.
"Our aircraft and coastguard vessels will intensify their surveillance and liaise more directly with our European Union and other nations' partners to intensify our watch over our Exclusive Economic Zone in such a way as to be able to deal with piracy in a more systematic way.
Mr Michel said we must remember the Indian Ocean is vast and difficult to patrol in its entirety but we will continue to do the maximum possible, with the authorities taking action the moment they get the hint of a possible attack.
"I'm setting up a specific contingent – that will naturally require many soldiers – to make security available on fishing boats that want to take them onboard for their protection because today our economy and the country are being affected."
He noted many of the fishing boats are not going out to sea because of the piracy threat.
There will also be a radar on Seychelles' outer islands where soldiers have already been deployed, and their force will be increased to protect citizens and tourists.
"The international community should look at the problem at its source in Somalia," he stressed.
Reiterating piracy is a problem for the whole world and not just Seychelles, Mr Michel said while the international community has intervened in many places, the situation in Somalia has been allowed to get worse over a long period of time.
He warned that while we are now talking about piracy, the threat of terrorism could soon get worse if the problem in Somalia is not addressed, for example making the passage of ships in the Indian Ocean too difficult.
Mr Michel pledged to renew his call to the international community soon urging them to do more, while Seychelles authorities will remain proactive as they have been, getting equipment and taking whatever action we can.
He said Mr Morgan will soon explain how the proposed new security measures will be deployed.