Postal Services launch stamp to mark 100 years of State House
12-November-2011
The commemorative stamp and First Day Cover for the historic occasion has been released and went on sale yesterday at the Central Post Office, Philatelic Gift Shop and Services, and at all post offices on Mahé, Praslin and La Digue.

The chief executive of the SPS, Errol Dias, presented the special issue stamps and First Day Cover to the Secretary of State for Cabinet Affairs Mohammed Afif at State House yesterday.
Mr Dias was accompanied by the SPS' director for administration and human resources Doria Zab.
Mr Afif thanked the SPS for the release of the special issue stamp and commended the high quality of the philatelic material, noting also the 100th anniversary of State House is an important milestone which deserves special recognition.
"The State House is a national treasure with a wealth of historical, cultural and political heritage, which all Seychellois have the opportunity to explore this year as part of the 100th anniversary celebrations," he said.
"The issue of the stamp will further bear witness to this important monument, and as we approach the festive season, will be an opportunity to share this through the sending of Christmas cards in Seychelles and around the world."
He gave a brief history of State House, which is detailed in our centre pages today.
The mint stamps – enough postage for local letters – are selling at face value of R3.50.
The First Day Cover is selling at R16.50 and key rings also released for the occasion are available at R25.00.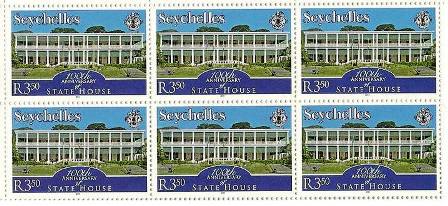 Mr Dias urged stamp collectors to visit the nearest post office to get their collection.
Also to mark the anniversary were young artists who have been drawing pictures of State House.
Mr Afif said doing so will help the young people further appreciate the importance of the historical monument and also its value today as the base of the Head of State and executive.