UN conference on sustainable development-Seychelles gears up for Rio+20
14-November-2011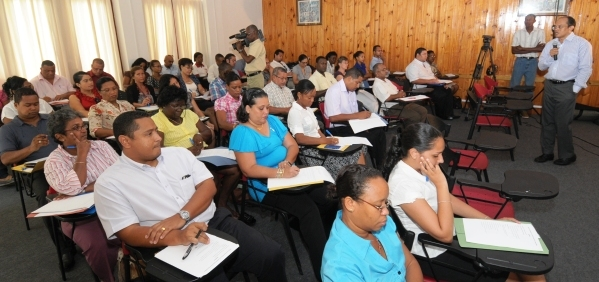 Representatives of non-governmental organisations, the department of environment, social development, as well as members of the National Assembly took part in a half-day workshop hosted on Friday by the University of Seychelles (UniSey) at Anse Royale.
Preparatory consultative meetings leading up to the Rio conference in June next year are being held in all countries, including Seychelles, that are taking part in the conference.
During these meetings, important issues from each country are gathered and compiled and will be presented and discussed at the conference.
In Seychelles a national preparatory committee chaired by Cliff Gonzalves has been set up to lead the consultations, during which stakeholders from all sectors of society will be consulted.
Launching the first in the series of workshops to be held in partnership with the UniSey, Mr Gonzalves explained why it is important for a small country like Seychelles to be well prepared before taking part in this very important conference.
"It is important that the three main aspects of sustainable development -- namely environmental, social and economical development -- are properly discussed so as to get the most pertinent issues to take to the conference," said Mr Gonzalves.
It was in 1992 that Rio de Janeiro, Brazil, hosted the 1st United Nations Conference on Environment and Development (UNCED). Also known as the Earth Summit, government officials from 178 countries and between 20,000 and 30,000 individuals from all walks of life attended the conference.
Twenty years on and with the world facing a mounting crisis, Rio will once again be at the forefront of the world's attention in 2012 when it hosts the UN conference on sustainable development, also referred to as Rio+20.
A strong delegation from Seychelles is expected to take part in the conference.
"Our aim is to get the input from as many groups in society as possible which is very essential to push Seychelles agenda at the conference," said Mr Gonzalves.
The inputs from the meetings will be compiled into a national strategy which the Seychelles delegation will take to the conference, he said.
Dr Rolph Payet, the president and vice-chancellor of the UniSey who is leading the workshops, said it is important for Seychelles to be well prepared in order to gain the maximum benefit from discussions to be held during the conference and also during other meetings on the sidelines of the conference.
Dr Payet said countries taking part in the Rio conference have five main topics around which to centre their preparations with regard to sustainable development in their countries and these are:
• Renewing political commitment
• Assessing progress to date
• Addressing emerging challenges
• Green economy
• Institutional framework in place for sustainable development
Dr Payet noted that such a conference is a great opportunity for Seychelles to push forward pertinent issues of national importance and these include maritime security, increasing food and energy prices.
Similar workshops for other groups are being planned and will be announced in due course.