Barclays colleagues 'Make a Difference' to youth
14-November-2011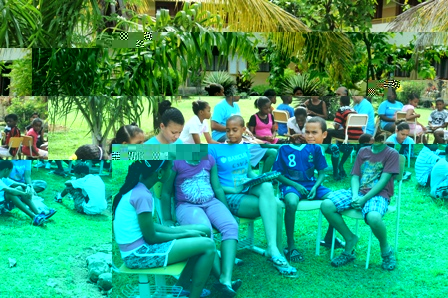 MADD is part of Barclays volunteering programme and encourages colleagues to give of their
time, energy and skills to support the next generation in developing enterprise, money
management and life skills.
Barclays Seychelles held its Make a Difference Day on Saturday November 12.
The objective of this year's activities was to engage young people in developing skills in money management, communications, negotiation as well as team building and creativity, whilst having some fun!
Seven local schools took part in the activities on Saturday. Some 100 P4-P6 students from Plaisance primary, Bel Eau primary and La Rosiere primary were introduced to the concept of money management via games and fun activities.
Some 250 students from all levels (S1-S5) from four secondary schools -- English River, Belonie, Mont Fleuri and Grand Anse Praslin – were given the opportunity to learn more about what goes on in a bank, understand budgeting and money management and its application to their every day lives. All students were also given a challenge which not only stretched them creatively but also taught them team spirit, how to negotiate and how to communicate in groups.
In addition, another group of secondary students were able to enjoy a day out at the Roche
Caiman sports complex and interact with Barclays colleagues through sporting activities such as tennis, volleyball, basketball, as well as indoor sports. The day ended with time spent at the swimming pool, a treat for many of the youth.
While the youth activities were taking place, another group of colleagues was involved with the
maintenance of the Au Cap Old People's Home and another team with the promotion of the Anse
Etoile school's medicinal garden, a project Barclays has supported this year.
Besides giving time and sharing skills, each school also received a donation that will benefit the entire school population.
Barclays has thanked its partners, the Ministry of Education and Employment, and the National Sports Council for their kind assistance and collaboration in ensuring that these events were successful.