Seychelles committed to fighting piracy
15-November-2011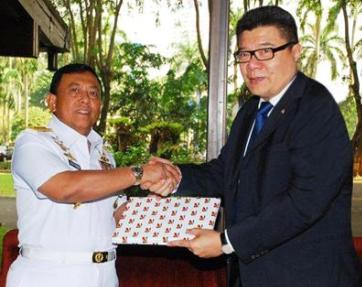 Mr Barito was Seychelles' special envoy at the symposium and in his remarks he said that combating piracy is not just about the code of conduct, database and capacity building.
"Economy is a more sensitive issue in regards to piracy. Allocating funds to developing countries to change mindset should be taken into consideration and inviting the business sector, the insurance group into the discussion should be considered," said Seychelles People's Defence Forces representative, Mr Barito.
The delegates agreed and the Indonesian delegation showed its effort in strengthening the economic life of people living along the coastlines.
Inaugurated in 2008 as the 21st century maritime security initiative, the Indian Ocean naval symposium provides a regional forum through which navies of all littoral states of the Indian Ocean region (IOR) can periodically meet to constructively engage one another through the creation and promotion of regional relevant mechanisms, event and activities.
The 2011 symposium in Jakarta, hosted by the Indonesian Navy, focused on "Anti-piracy Concept" where members discussed issues and concerns related to maritime security, with a view to arriving at agreed courses of action on trans-national issues, based upon a common understanding of the regional maritime security environment.
Mr Barito also shared with the delegates the outcome of the international piracy conference recently organised by Seychelles in September and attended by representatives of Somalia, the Transitional Federal Government of Puntland and Galmadug.
The Seychelles People's Defence Forces would like to convey its gratitude to the Indonesian navy for hosting the event and added that the workshop has been very fruitful and has improved mutual understanding between Indian Ocean naval symposium members and observers.
Seychelles has called on the member countries to join hands in securing the oceanic resilience towards the nations' sovereignty.

All navies reaffirmed their commitment to advancing the special friendship and cooperation between navies in the region and agreed to work towards the signing of the Indian Ocean naval symposium in South Africa in April 2012.