Plaisance primary inaugurates 'special education room'-. Where even if they just come to play, they end up learning
16-November-2011
The education room is equipped with flat screen television sets, DVDs, various sets of pictures, with matching words in all national languages and other educational aids.
The room has been in use since mid-second term and has already produced some tangible results.
The cutting of the ribbon Tuesday morning was a "happy occasion" to quote the project's main sponsor, Vijay Patel of Vijay Construction.
It was done in the presence of department of education officials, the school's council members, teaching staff and pupils.
Over the past few years, the school – though recording significant improvement in the school's overall performance – has felt it necessary to address some worrying concerns.
The school's approach to teaching has been the focus of many discussions and it was decided there is a need to give special attention to certain pupils with learning difficulties.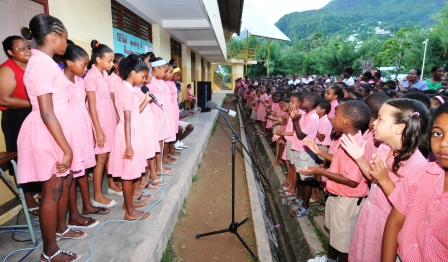 With the help of the council, the school's management sought sponsorship to set up a special classroom that would make learning easier for certain groups of students.
Mr Patel was supportive of the project which has in its first phase cost around R100,000.
The school's council chairman, Terry Servina, told teachers and pupils he hopes good use will be made of the education room. He noted that the setting was unlike classrooms in style, to give a more relaxed ambience conducive to learning. He said that so far, emphasis has been laid on the literary and numeracy aspects of learning.
Videos and other aids are also used to improve tonality of speech, where spoken languages are concerned.
But, ultimately, even students who already excel will be able to make use of the room.
"But the project does not end here. Students must see the difference and feel the effort," he said, expressing the hope that parents will be more supportive of such initiatives.
Mr Patel said he was happy some results have already been produced by the school's education room.
He recalled he has for a long time established a personal friendship with the school's head teacher Cyril Pillay. He said this dates several years back when Mr Pillay was at the Cascade school. "We are both enthusiastic about doing something for the children," he said.
Of the new classroom, Mr Patel said: "Even if they come to play, they end up learning a lot". He added that "the more they learn the better for the country. Education is the country's future."
A school choir sang to thank Mr Patel for his sponsorship and a pupil, Adele Pillay, presented him with a gift.
Plaisance primary is headed by Mr Pillay whose deputy is Josemee William and some other committed teachers.
Mr Pillay told Seychelles Nation that together they make a good team, but hopes some parents will get more interested in what their children are doing at school.