Youth council members at humanitarian law training
17-November-2011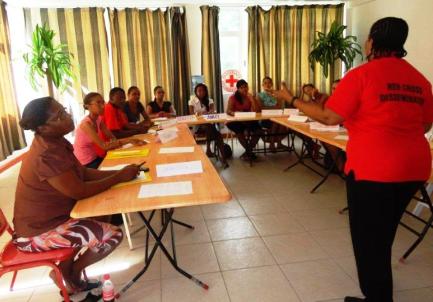 Red Cross' communications coordinator Marie-May Bastienne said the workshop was the first of that kind to be run for the SNYC and was held "because learning about the IHL is relevant, meaningful and useful for young people in all societies".
"The subject is relevant and timely everywhere – regardless of a country's experience of armed conflict or other situations of violence," she said.
The induction session served as an eye-opener for the youth, "giving them an insight into what IHL entails, how and when it is applied".
"It also served as a guide for them to be familiar with the Geneva Conventions – which Seychelles signed in 1984 – as well as other related treaties and or conventions.
"The primary goal of the IHL is to help young people embrace the principles of humanity in their daily lives."
She said the law helps people better understand the need to respect life and human dignity, especially in times of armed conflict and how difficult it is to apply it.
Mrs Bastienne said learning about the IHL fosters interest in current events and the capacity to view conflicts at home and abroad from a humanitarian perspective, while encouraging people to be involved in community service or other activities that serve the most vulnerable members of society.
"With the globalisation of information, new threats within the Indian Ocean region and a society where people are becoming more aware of their rights and responsibilities, it is clear this is the right time to raise more awareness on the IHL especially for young professionals and leaders.
"Given the right tools and knowledge the Seychelles National Youth Council members can play an important role in such efforts as well as for their personal development," she said.