President Michel hosts 76th birthday party for former President Rene-Young people urged to build on sound foundation laid
17-November-2011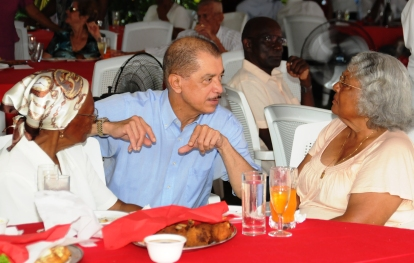 He appreciated that Mr Rene created the country's solid foundation on which we continue to build today, and urged the future generations to use the foundation to ensure Seychelles continues to shine – not only in the Indian Ocean, but all over the world.
He was speaking as he hosted a birthday reception for Mr Rene and senior citizens from across the country at State House yesterday afternoon.
Over 500 guests from all the 25 districts gathered for the party, including Designated Minister Vincent Meriton, other cabinet ministers, former Vice-President Joseph Belmont and high government officials. Several of the guests were also celebrating their birthdays yesterday.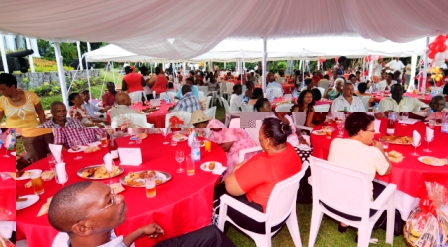 Mr Michel said the tradition to mark Mr Rene's birthday continues, noting every year he comes to the reception, but had caught flu that is affecting quite a few people in the country and could not make it yesterday.
"It is regrettable Mr Rene could not be with us this afternoon (yesterday afternoon) to celebrate his 76th birthday with us," he said.
He passed Mr Rene's greetings in which he thanked those who turned up at the reception, and conveyed his best wishes and those of the guests to Mr Rene.
"I take this opportunity to thank President Rene in the name of all Seychellois for all the work he has done for our country and its people in his struggle to bring Seychelles to its current level of development that commands respect all over the world.
"We all need to accept that Seychelles has come a long way from the time President Rene started the fight for independence to where we are now."
Mr Michel said many good things happen but the media often chooses not to mention the positive things about Seychelles that bring this country the global respect it has earned.
President Michel also thanked all the senior citizens of the country for the important role they play in society."The elders of our country need to continue to educate the younger generations, and remind them that our country has come a long way in its development. They need to share their wisdom so that we can all benefit from their knowledge and experience," he said.
The annual reception for senior citizens was originally introduced by Former President France Albert René to coincide with his birthday on 16th November as a mark of respect and appreciation for the contribution of senior citizens to Seychellois society.