Education reform undergoes assessment in preparation for next phase
19-November-2011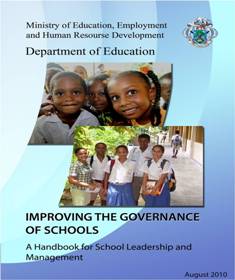 The greatest priority of the sector over the past two years has been the education reform, completing its first phase (2009-2010/11). A data collection and analysis plan is being implemented over the next three months to assess the progress of the reform to date and to help in the development of the medium term strategy for next phase of the reform.
This exercise is being conducted by the department of education policy and planning division with the expertise of a consultant, Jim Fox.

One of the main reasons for this assessment, data collection and analysis is to allow educators to take stock of the reform implementation so far and to better inform decision making in regards to the next phase of the reform. An analysis of the reform action plan was done and specific reform outcomes were identified for evaluation.
The outcomes include:
Teachers Scheme of Service (TSS)
Through Education Reform Priority 3.0 Improving the Quality of Teachers, Theme 3.2 Recognised the need to Reinforce the Teachers' Scheme of Service in collaboration with teachers association and other relevant professional groups, for the recognition of good practitioners in the educational institutions. The revised Teachers Scheme of Service which started in 2009 and took effect in 2010 aims at improving the remuneration of all serving teachers/lecturers, enhance their morale and encourage them to remain in the profession.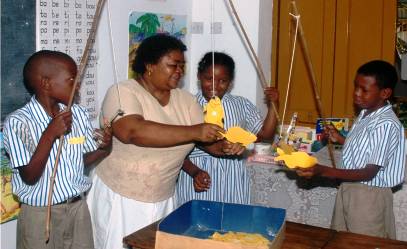 Pastoral Care System
Under Priority 5. Creating Responsible and Empowered Students, Theme 5.1 Recommends a Review and strengthening of the Pastoral Care System of schools and post-secondary institutions to foster self-development and empower students and others to become responsible, caring cooperative members of their schools, homes and society.
The new Pastoral Care System was introduced in January 2010 based on principles such as the empowerment of students and teachers, holistic development, skills- building, the involvement of the whole school community, and the application of good values in day-to-day interactions.
Technical and Vocational Education Training (TVET) at S4
Priority 01 entitled Providing for the Diversity of Educational Needs and National Development Priorities, Theme 1.1 Calls for Reform of the structure and curriculum of secondary schools to better meet the diverse needs of students and of the national economy.

As of Term 2, 2011 there has been a more diversified curriculum being offered in the 10 state secondary schools. Offering a diversified curriculum to a selected group of S4 students is part of the implementation of the first phase of the reform of the Secondary School Structure. The modified structure includes a new curriculum option for students with an achievement profile which would make it difficult for them to access the IGCSE and DELF programmes. The present TVET programme is a two-year course at upper secondary education level (S4-S5) offering a range of programmes based in school, technical vocational institutions and workplaces.
The New Kreol Reading Scheme, Aprann Lir Avek Papiyon
Under Priority 01: Providing for Diversity of Educational Needs and National Development Priorities Theme 1.2 Recommended the Review of the Early Childhood Education curriculum
to increase focus on literacy, numeracy and life skills. Hence the new Early Childhood reading scheme was introduced and implementation began in all Primary Schools from 2009-2010. The third and final phase of the Primary 2 Programme was launched in 2011 in all Primary 2 Schools? Sixty teachers and 25 early childhood coordinators have been trained in this programme. Parents, students and relevant partners have been trained. Additional curriculum material is currently being finalised to complement the existing Alap programmes in the schools. At present a series of evaluations is being administered in all crèches in pre-reading and in pre-mathematics.
The new English reading scheme, Jolly Phonics
Also under Priority 01 Providing for the Diversity of Educational Needs and National Development Priorities, Theme 1.2 Review of the Early Childhood Education curriculum to increase focus on literacy, numeracy and life skills a new english reading scheme was also introduced in 2010. The new english reading scheme has been introduced in primary 1 since May 2011 in order to enrich the existing reading schemes in schools. As a strategy to improve literacy in English.
Establishment of the Centre for Curriculum, Assessment and Teacher Support (CCATS)
Priority 01 Providing for the Diversity of Educational needs and National Development Priorities called for the setting up of a management structure for curriculum eevelopment for primary and secondary. Hence the Centre for Curriculum, Assessment and Teacher Support (CCATS) was established in 2010 to help in the harmonisation and rationalisation of curriculum related work
A new approach to school management and governance including the establishment of school councils

Improving Governance of Educational Institutions which is Priority 4.0 of the Action plan, Theme 4.2 Called for Greater autonomy to be provided to schools with a view for schools to become result-oriented within a transparent and accountable framework.
Launched in 2010, the overall goal of the new model of governance and management of schools is to improve teaching and learning through the promoting of greater decentralisation of the decision-making process in education, to bring about better management of school matters, a greater sense of ownership and greater involvement of the staff in school affairs.
Establishment of a new Inspectorate
Priority 2 Guaranteeing Quality Education in Schools, Theme 2.1 Called for the Establishment of a school support evaluation system at Education Headquarters to ensure that quality and standards of education is maintained within a framework of continuous improvement.
Hence the creation of a new inspectorate system was put in place and introduced in schools as of Term 2, 2011. A handbook entitled Looking at Our School-Effective Self-evaluation through Collaboration Partnership provides a guide to all partners in the inspectorate process.
Contributed by the Department of Education