Securing the safety of fishermen, sailors and passengers amid piracy threat-. Armed guards to be deployed on Seychelles vessels within six weeks
19-November-2011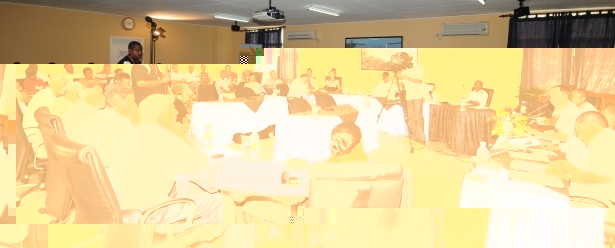 This was announced yesterday by the Minister for Home Affairs, Environment, Transport and Energy Joel Morgan at a meeting with members of the Fishing Boat Owners' Association at the Seychelles Fishing Authority (SFA) headquarters.
Also present was the Minister for Investment, Natural Resources and Industry Peter Sinon, the acting chief executive of the SFA Finley Racombo, the commanding officer of Seychelles Coast Guards Lt Col Michael Rosette and the director general of the Seychelles Maritime Safety Administration Captain Joachim Valmont.
The meeting was called in response to a letter from the chairperson of the Boat Owners' Association Beatty Hoareau in the wake of the capture by Somali pirates of two Seychellois fishermen aboard the 'Aride' and some measures announced by the government to strengthen the safety of seafarers, including placing armed guards aboard some vessels.
Minister Morgan said the decision to recruit Nepalese Gurkhas was taken by the government to increase the manpower needed to beef up security aboard fishing, leisure and cargo vessels.
He said the idea was to allow the fishermen and leisure boat operators as well as other seafarers to re-launch their activities at sea, secure in the knowledge that there is patrolling under armed guard to deter the threat of pirate attack.
Minister Morgan said the Gurkhas being recruited are all former military personnel with maritime experience, who will on their arrival in Seychelles follow a short induction course to get acquainted with conditions aboard Seychelles vessels.
"Gurkhas will supplement our own military personnel who will also be deployed aboard the vessels," Mr Morgan said.
He went on to note that a technical committee has been set up headed by Lt Col Rosette who will assess various issues before making a report to him for submission to the cabinet.
"We shall need to ascertain what kind of boats will have armed guards. What strategy will be most effective?"
He said he expects the 'Modus Operandi' to be finalised by next month. But, before this is implemented, Mr Morgan said, he will again meet the boat operators group by group to seek their views.
"We do not wish to impose anything on anybody," he said.
But, it appears that such proposals did not satisfy some fishermen, notably the owners and fishermen of the four long-liners, who claimed they have been held up since two weeks and are willing to take armed guards on board their vessels so that they can resume operations.
One long-line operator said the boats venture as far as 130 miles from Mahe to catch swordfish, sailfish and tuna. This means that they cannot be restricted to the "security grid" or safe areas designated by the SFA.
The meeting had earlier heard from one long-line fisherman who claimed he recently had a close shave with pirates. The fisherman said what looked like a pirate skiff, initially six miles away, was fast closing on him while he was having difficulty contacting the SFA. He said the skiff had reached about 1.5 miles when he made the swift decision to abandon the long lines and speed away. But lost in his wake was some R30,000 worth of lines and hooks.
A proposal to use ex-army personnel was deemed to be unfeasible. Mr Morgan said it is the government's policy to ensure that firearms are only handled by members of the armed forces. He said the fact that the ex-army personnel have long become civilians and taken up other occupations, make them vulnerable.
"We must make no mistake that the Somali pirates are hardy and resilient, surviving for weeks in the blazing sun, on a diet of powdered milk, macaroni and dates. They might be pathetic when captured, but they are not so miserable out at sea, especially with an RPG," said the minister.
Mr Racombo said the SFA has a stock of some 80 VMS (Vessel Monitoring System) sets and the help of some companies is being sought to install them on as many boats as possible, with priority given to vessels presently engaged in the fishing effort.
Charter operators still without VMS are being urged to order their own, while making sure the system is compatible with that used by the SFA and the coast guards. VMS costs on average US $2,500 apiece.
While admitting that Seychelles was the country most hit by piracy, Mr Morgan also stressed that the nation was taking the lead in the anti-piracy campaign. He noted that Seychelles was the only country in the region patrolling the high seas 365 days a year and 24 hours a day.
He also said now that Seychelles has a "state-of-the-art coast guard base" gifted by the United Arab Emirates, requests will be made to friendly countries to help with more and faster patrol boats.
Mr Morgan said the British Prime Minister David Cameron's recent offer to set up an Anti-Piracy Coordination Centre on Mahe will mean that several countries will station their analysts here.
He, however, also stressed that Somalia has a 3,000 mile coastline from which pirate vessels set out to sea. When the mother ships deploy their skiffs to prey on shipping and even fishermen, they may be detected on radar only as far as five miles away. And that difficulty is compounded when there are high seas, with the skiffs bobbing up and down on the vast ocean.