Hospital better equipped for hearing tests with new audio booth
19-November-2011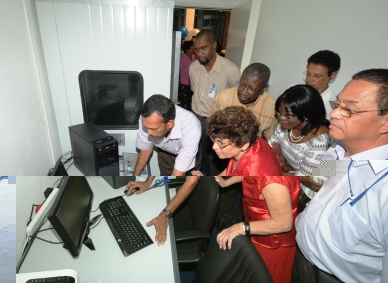 The equipment is a donation from the Seychelles Civil Aviation Authority (SCAA).
The official handing over of the equipment was done in a small ceremony attended by a number of high-ranking Ministry of Health officials this week at the Seychelles Hospital.
This included principal secretary Bernard Valentin and public health commissioner Jude Gédéon. Also present were a number of SCAA representatives.
The donation of the equipment is part of the SCAA's corporate social responsibility programme, which covers health, the environment and education.

After discussions, a list of equipment vital to the ministry was drawn up and the audiometric booth was settled on.
SCAA public relations officer Lina Laurence said the equipment – which measures the power of one's hearing among other things – is also of importance to the SCAA, which operates in an "environment of noise".
"Our staff will also benefit from it, especially pilots and air traffic controllers, who have to do a hearing test every year but it has also of course been donated with the public's health in mind," she said.
She added the donation is also part of their activities to celebrate the company's 40th anniversary.
Speaking during the handing over, Dr Gédéon said modifications had had to be done in the rooms housing the booth and adding engineer Wili Priyanka has been key in getting the system up and running.
Dr Gédéon and the SCAA general manager of operations Wilfred Fock-Tave then both symbolically cut the ribbon to officially launch the equipment's operations, which will be overseen by the occupational health department.
The guests were also treated to a demonstration of how the audiometric booth works.
Miss Laurence said the total costs for the equipment and plus freight has reached over R80,000.