Mass marks start of Defence Forces Day
21-November-2011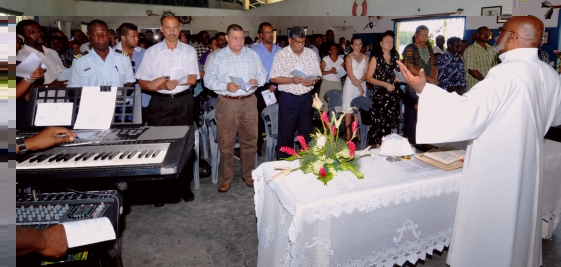 Deacon Louis Agathine said the mass with the help of Captain Margaret Louise of the Seychelles People's Defence Forces (SPDF). Among the congregation was chief of defence forces of Seychelles Brigadier Leopold Payet, Lieutenant Colonel Clifford Roseline, Seychelles Coast Guard's Lieutenant Col Joe Ragain, Major Philip Barbé, Defence Forces' Spouses Association chairperson Stella Doway, members of the public and other guests.
Captain Louise said the mass is held every year to mark the beginning of Defence Forces Day which falls on November 25.
In his message for Defence Forces Day, Brigadier Payet said "the day reminds us of the determination, selflessness and sacrifices our armed forces rendered for the defence of the country."
He added that in the face of current threats faced by our country, a call for "forging unity and trust amongst armed forces and the nation" is needed.
"The best way to pay tribute to sacrifices of our heroes is to dedicate ourselves by incessantly working towards building up professionalism, personal skills and character, so as to come up to the expectations of the nation whenever the opportunity demands," he said.
Major Barbé, vice-chairman of the Defence Forces Day organising committee, said the aim of the mass was to courage all for the remainder of the activities the SPDF has planned for this week.
"It is also being held in memory of the brave men and women who lost their lives on November 25, 1981," he said.
Captain Louise added that the mass is a way to thank God for the courage he has granted the soldiers to be able to carry out the work they do.
Activities to celebrate Defence Forces Day will span one week and will include community work at the Plaisance secondary school and Beau Séjour cross, a blood donation by SPDF and civilian staff at the Seychelles Hospital, a firing competition between the SPDF and the Indian Army and the traditional wreath laying ceremony at the Victory Monument.