Final checks before Anse Royale hospital is used
22-November-2011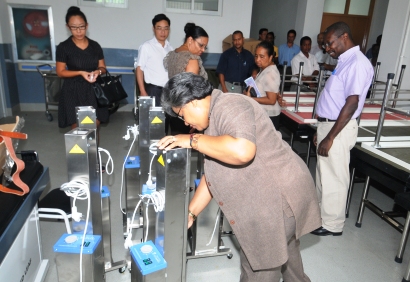 Health Minister Erna Athanasius said this yesterday after she toured the hospital with Chinese Ambassador Shir Zhongjun, in the company of senior officials and technicians from her ministry and from the Ministry of Land Use and Housing.
She said the sewage treatment plant, for example, is of a type not commonly used here, and the authorities wish to see it tested before the hospital can be used.
Ms Athanasius said some of the fittings like the burglar proofing bars – installed by the contractor after the handover – have not withstood the local climate and are rusting.
After lengthy talks with Mr Shir and representatives of the construction company, the decision was reached to replace such fittings, in what Ms Athanasius said is an otherwise magnificent hospital.
The head of public health engineering at the Ministry of Health, Eulalie Sabury, said the sewage treatment plant will be tested by the Public Utilities Corporation in the same way as many other such systems in hotels and other establishments are checked.
After several weeks, effluent from the system will be checked and if found to meet Seychelles' strict environment standards, the plant will be accepted for use.
She said the hospital is not the first place in Seychelles where an activated sludge system has been used, but noted others have been built on site while the main components of the one at Anse Royale were brought in already assembled, with a design that has not been used here yet.
Funded by the government of China, the hospital was built by the Qingjian Group of Qingdao, which also helped put up the Seychelles Bureau of Standards complex, the Baie Lazare and Au Cap primary schools as well as a number of government and private housing projects.
Building started in June 2009 for the regional hospital which can take 20 male, 20 female and 10 child inpatients at a time and is expected to offer a 24-hour service.
It also has a rehabilitation and physiotherapy room where acupuncture is expected to be given.
Other facilities include a labour room, an accident and emergency unit with a special treatment room and its own reception as well as an operating theatre and X-ray facilities.