Assembly approves Waven William as ambassador
23-November-2011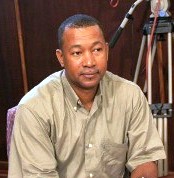 Mr William's recent appointment as an ambassador extraordinary and plenipotentiary of the Republic of Seychelles is in accordance with Article 64 (1) of the Constitution.
A motion calling on the Assembly to support the appointment was tabled by the leader of government business Marie-Louise Potter.
In her presentation Mrs Potter said Mr William, having spent 18 years as a parliamentarian serving his Grand Anse Mahe district, is a well known figure, a humble and a simple person.
During the fourth Assembly Mr William chaired the International Affairs Committee (IAC) during which he played an active role in making Seychelles' voice heard in international parliamentary associations and forums. Taking part in these many international meetings has allowed him to establish a lot of contacts with important organisations and people, which would help further broaden his knowledge and develop his career as a diplomat.
Having chaired the IAC has also prepared and equipped him to be a good ambassador for Seychelles, said Mrs Potter.
The present elected member for Grand Anse, Lenny Lebon said Mr William has always been a devoted and committed worker who has over the years cultivated a good working relationship with ministries and organisations in the country.
Starting a career in agriculture and moving up to represent a constituency in the National Assembly and now to be appointed as ambassador for his country is proof that the country believes in his ability, said Mr Lebon.
The Assembly wished Mr William all the courage and success in his new responsibilities.