SPTC renews fleet with 15 new buses
23-November-2011
The buses – all TATA 1318 models of 52-seat capacity – were officially commissioned yesterday in a short ceremony at the company's depot along Latanier Road. This was in the presence of the principal secretary for Transport and Energy Philippe Morin, and the SPTC board of directors, bus drivers and other staff.
The SPTC's chief executive Veronique Laporte said they are aiming to remove the 30 oldest buses from the fleet by next year.
"We will start by removing the 15 oldest now and replace them with the 15 newly-arrived ones," she said.
"Out of the 15 being removed from circulation, eight will eventually return to operations."

The buses going in for reparations will have their leaking roofs fixed and refurbished and are expected back on the road by early next year. The second batch of 15 new buses is also expected in the country next year.
Miss Laporte said their plan is to eventually have a complete fleet of buses not more than five years old, as opposed to some now which are nearly 10 years old.

"The new buses will be used on the current routes and operations will not be affected in any way," she said.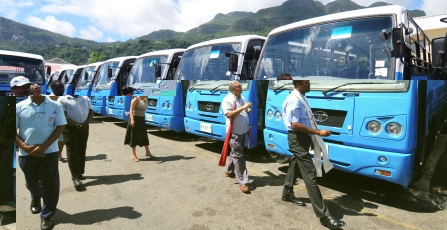 In the commissioning ceremony yesterday, Father Edwin Mathiot and Reverend Danny Elizabeth blessed the new buses and asked the drivers to say grace each time they got into their buses for the first time each day and ask to get to their destinations safely through the grace of God.
The guests were then able to visit the new buses and see their interior, which has features such as padded leather seats and fans.

Miss Laporte said electronic ticketing machines from buses that are being removed from circulation will be installed on the new buses after thorough servicing, saving the company the cost of buying new ones.
"We are asking the public to continue using our facilities properly such as our hotline number, to respect the yellow line inside the bus and to give their full cooperation," she said.
The cost of the new buses has been met entirely by the SPTC, which now has a fleet of 255 buses.