Developing literacy skills in the early years
23-November-2011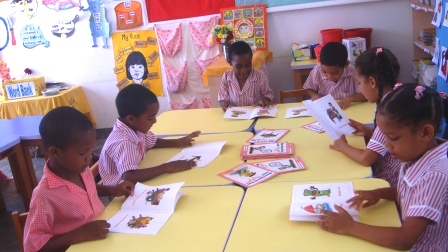 In our context, literacy skill refers to language skills in the three national languages which is a specific area of the national curriculum for the last three decades. There have been various initiatives to ensure that learners benefit to the maximum from our trilingual policy.

It is in that perspective that the first reading scheme in Kreol – Aprann Lir Avek Papiyon – was introduced three years ago, starting in the second year of creche.
In 2011, primary one pupils were introduced with a new reading scheme in English – The Jolly Phonics reading scheme. It replaced the existing 'New Way Reading Scheme' which had been in schools for many years. The Jolly Phonics was chosen among many other good reading schemes for its phonics approach which corresponds favourably with the ALAP where children first learn to read. It eases the transfer of learning from one to the other.

For example, after children have learnt basic sounds in Kreol – which are common to English – they do not need to be re-taught the sounds but rather reinvest them in new learning in English.
When the Jolly reading scheme was introduced in May this year, all primary one children took a standardised test to establish their reading age. The same test will be administered to the same children when they reach the end of Primary two in 2012.
The 2012 primary one cohort will also take the test. These results will be used to establish a baseline for English in the early childhood cycle.
There has been a series of workshops organised by the Centre for Curriculum Assessment and Teacher Support (CCATS) to help the implementation of the reading scheme. It is also pleasing to note that schools have networked among themselves to conduct school-based workshops and to develop supplementary materials.
It is relatively early to assess the effectiveness of this programme. However, initial feedback indicates that the colourful and child-friendly materials are popular with the teachers as well as the children.
It is anticipated that these materials will contribute to develop strong reading skills in the early years of each child and build his/her confidence for further learning.