Marc Chang-Lam to head two Air Seychelles sections
24-November-2011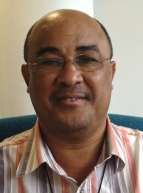 He replaces Marja Karjalainen as director for Human Resources, Training and Administration who retired this month.
As the new Director HR& IT, Mr Chang-Lam will be responsible for the Human Resources, Information Technology, Administration and Training departments.
He will manage the human resources management and development, training and administration functions of the airline with a view to optimising use of manpower and motivate staff for high level productivity at all times.
He joined Air Seychelles in 1989 after gaining experience in financing, auditing and information technology in the public and parastatal sectors.
He holds a Master of Science degree in Information Systems Management with distinction from the University of Liverpool, UK.
As part of his MSc Degree, Mr Chang Lam studied organisational behaviour, which encompasses human resources management, management and development structures, strategy and design, change, decision-making and leadership.
Air Seychelles chief executive Bram Steller said: "In line with our current situation and our commitment as not to recruit externally, we have selected Marc, who has proven to have professional management skills in his current post as director of Information Technology & Telecommunications".