Health services meet organisations half way
25-November-2011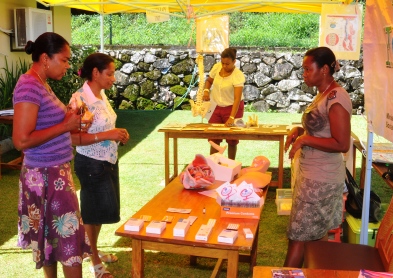 SIM's marketing and business development manager Dolivette Chang-ko, who is also one of the college's outreach coordinators, said she realised that as an organisation with many professionals, most of her colleagues do not have any time for regular medical check-ups.
"So, as an institution we decided to bring health closer to them," she said, adding she hopes it would encourage the staff and students to pursue a healthier lifestyle.
Youth Health Centre director Judy Brioche said the centre felt it was time to change its strategy.
"We realised that fewer and fewer young working professionals were taking the time for medical check-ups so what we've done is start a programme where we as health professionals can meet them half way," she said.
Ms Brioche said they started the project with post-secondary institutions first before receiving a call from the SIM management.
"I think it's one of our best ideas yet because through this outreach programme we are better able to educate a larger audience on the importance of the Papanicolaou test (pap smear), and getting HIV tests done for example," said Ms Brioche.
She added that along with tests, the centre also brings along physiotherapists and nutritionists for those who need advice.
The outreach health screen facility also included tests for blood pressure, body mass index, breast examinations and referrals, counselling and information on reproductive and sexual health to name a few.