More drivers hit by falling tree in two days
26-November-2011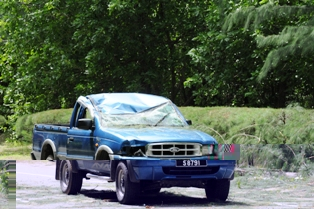 Meteorologists said wind speeds yesterday reached 106 kilometres per hour.
A man driving towards Victoria was the first victim after a large casuarina tree fell on his pickup truck, crushing the cabin. Police spokesperson Jean Toussaint said minor injuries were reported after the accident.
He said no injuries were reported in a similar accident involving another pickup.
Towards evening two cars were enveloped by fallen trees in the same stretch of road forcing vehicles to crawl over the spikes near the Cable & Wireless Providence offices, creating a traffic jam that blocked both the highway and the Cascade road to which traffic was diverted.
Mr Grandcourt said he suddenly saw an "enormous green object block out the sun, falling downwards towards him".
He braked trying to avoid it but the casuarina tree fell on top of his car, crushing his cabin and damaging the front part of his Ford pickup.
His passenger was taken to the Seychelles Hospital for treatment for mainly scratches.
"I think that by braking I probably saved my passenger and the truck from further damage, the tree would have fallen with more impact on top of us if I had not tried to stop," he said.
This is the fourth such incident in two days, after a tree fell on another man's car on Wednesday morning at Fond B'Offay Praslin, almost sweeping him off the road.