Government earns praise for broken tourism record
26-November-2011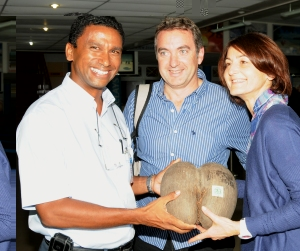 French nationals Florence and Arnaud Gambert were surprised by their reception when the Seychelles Tourism Board's (STB) chairman Barry Faure told them they were special as they entered our tourism's history books as the couple who broke the record as he presented them with a coco de mer nut.
They arrived on an Etihad Airways flight from Abu Dhabi and Mrs Gambert said she only realised where her husband was taking her in Abu Dhabi when she knew the flight was Seychelles bound.
It was Mr Gambert's surprise for her as they celebrate their 20th wedding anniversary, and neither of them had been here before, though he said Seychelles is a well-known destination the world over.
On the same flight was STB's chief executive Alain St Ange who said:
"That we have broken last year's impressive record shows that the tourism policy of the government is working."
He commended President James Michel's leadership of the industry in his capacity as Tourism Minister, saying a few years ago the government made a conscious decision to diversify our market "by taking a bit from everywhere in markets we feel could produce for Seychelles".
"Today is clear we are on the right path. It also shows clearly that the idea of positioning our offices in key market areas and putting our own people who are selling Seychelles from their hearts at these markets has also helped to promote our destination and ensure Seychelles remains at the forefront when the world economies are suffering and our main target markets are going through financial turmoil.
He said the embassy Mr Michel opened in Abu Dhabi is of the new kind that has a tourism attaché.
"If Seychelles was an oil-producing country or was selling arms, we would have an oil, or defence attaché. Now that we have tourism, we need tourism attachés," he said.