Angola marks 36th independence anniversary in Victoria
26-November-2011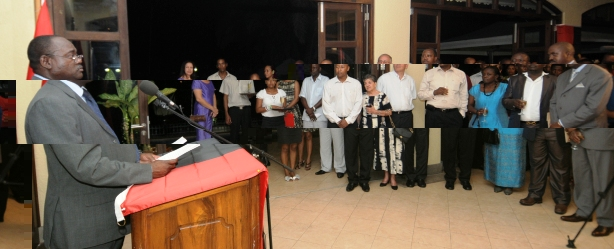 Addressing invited guests, who included chief justice Fredrick Egonda-Ntende and senior officials of the Ministry of Foreign Affairs, the Minister-Counsellor at the Angolan embassy in Dar es Salaam, Goao Gimolica, said Angolan-Seychellois cooperation can now be strengthened in several fields, notably cross-border crime, climate change and counter-terrorism.
He said such cooperation had been delayed because of several constraints, noting that the civil war in Angola only ceased nine years ago.
Mr Gimolica said peace and long term stability can now allow Angola to focus on sustainable development and re-distribution of national wealth.
He noted that already unemployment has dropped from 68% in 2002, the year civil war stopped, to just 18% last year.
Before proposing a toast to the Republic and Government of Angola, the director general for Protocol, Treaties and Consular Affairs, Joseph François, said Seychelles shares Angola's celebration and takes pride in its achievements.
He said that both countries share an abundance of avenues for mutual cooperation – from fisheries through tourism, to trade and agriculture.
Mr François noted that there were 11 members from Angola in the SADC observer mission for the National Assembly election held in October.
He said though Seychelles and Angola are different in history, culture, social system and development levels, we should view and handle bilateral relations from a strategic and long-term perspective and with a sense of responsibility to history and to the future.
Mr François stated that Seychelles has pursued a vigorous phase of development that puts people first and emphasises comprehensive, coordinated and sustainable development.
He added that having set out the guiding principles, strategic objectives and major tasks for economic and social development, Seychelles can continue to deepen reforms and opening up, advance economic, cultural and social restructuring through our active involvement in the SADC.