Seychelles and UAE bolster cooperation for tourism partnerships
28-November-2011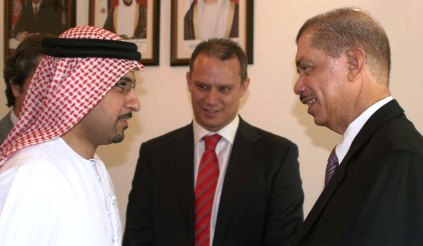 The Minister for Foreign Affairs, Jean-Paul Adam, and the Seychelles Ambassador to the UAE, Dick Esparon, also attended the meeting.
"We have discussed ways in which we can improve communication, trade and investment traffic between our two countries. Seychelles and the UAE enjoy excellent relations that can also be bolstered with the promotion of new tourism ventures and marketing of the Seychelles brand in the Gulf and Middle East region," said the President.
The President noted that many Seychellois had in recent times chosen to live and work in the UAE, and that business and trade between Seychelles and the UAE had increased as well.
Mr Michel also expressed his appreciation of the continued friendship and support of the President of the UAE, His Highness Sheikh Khalifa Bin Zayed Al Nayan, and the Crown Prince of Abu Dhabi, His Highness General Sheikh Mohammed Bin Zayed Al Nahyan.

During his working visit to the UAE, President Michel also met Sheikh Majid Al Mualla, Emirates senior vice-president for commercial operations in West Asia and the Indian Ocean.
Emirates Airline has pledged to continue supporting the Seychelles tourism industry and develop new partnerships, during the period of the Air Seychelles repositioning as a regional airline.
President Michel also discussed the recruitment of Air Seychelles staff by Emirates Airline, for staff who will be affected by the repositioning, and he received reassurance from Sheikh Al Mualla that this would be taking place in the near future.
Emirates Airline has been flying to Seychelles since January 2005 and employs more than 100 Seychellois airline professionals.