Survey vessel here to get new seismic data
28-November-2011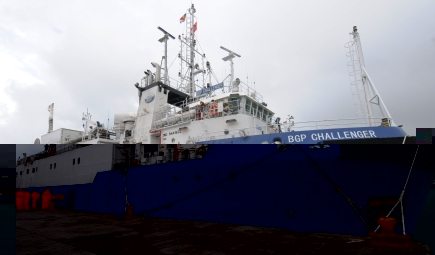 As part of the work programme under its petroleum agreement, the East African Exploration Seychelles Limited (EAX Seychelles) holds a 75% interest and Avana Petroleum Limited 25%.
The BGP Company is a specialist seismic contractor contracted to do the survey using the Challenger.
The ship and two escort vessels – the Atalanta and the Carina – arrived in Port Victoria on Friday.
The Seychelles Petroleum Company's (Sepec) deputy chief executive Eddie Belle and other Sepec officials visited the vessels when they came.
The EAX chief operating officer Barry Rogers told Seychelles Nation they have been doing seismic surveys in the Seychelles region since 2007.
"We use sounds and their echoes to build pictures of the rocks on the sub-surface and interpret what they might tell us about the possibility for oil and gas in the region," he said.
"What we have found so far is there is evidence of different kinds of structures in various parts of what we call the Seychelles platform.
"We have been recording the seismic surveys and what we have seen has encouraged us to
do more, and that is why we are here now."
After their month-long mission, their results will be taken for computer processing using the images they get.
Mr Rogers said they will then work on eventually drilling an exploration well, hopefully in the next two years.
Sepec said it is working closely with all local stakeholders to ensure safe and secure completion of the survey. A stakeholders' meeting was held recently at the company's headquarters and daily advisory messages will be sent to fishermen and other ocean users by the Seychelles Fishing Authority and the Maritime Safety Authority regarding the ships' movements.
Sepec further said that EAX Seychelles – a wholly owned subsidiary of Afren plc – will do the survey over 4,500 sail kilometres of conventional 2D seismic lines, and is expected to take just over a month to complete.
Late last year a similar, but much larger survey was undertaken by Fugro and the other company actively exploring for hydrocarbons in Seychelles, WHL, took the opportunity to acquire infill data in their licensed area.